UPCOMING MEETING: Blue Goose Site Visit
UPCOMING MEETING: Blue Goose Site Visit
Members of the Arlington Planning Commission's Site Plan Review Committee (SPRC) will be doing a site visit to the Blue Goose, the building owned by Marymount University at 1000 N. Glebe Road. The building, which was included on Preservation Arlington's 2013 list of Endangered Historic Places, is now threatened with demolition as part of plans to redevelop the site.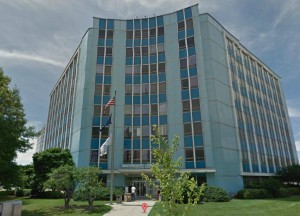 At a meeting of the SPRC in June, County staff, representatives of the Historic Affairs and Landmark Review Board, and the applicant discussed historic preservation of the building, along with rezoning and other considerations.
According to the subsequent summary report of the meeting, "The applicant indicated that rehab/restoration of the existing 1960s building did not make sense here. Historical context is the building's use not its design." The participants seemed to agree on reusing building materials from the old building, and one SPRC member stated that "historic preservation is not always about preservation only. Find a creative way to do this."
CHANGE in TIME: The SPRC site visit is open to the public and will take place on Thursday, July 18th, from 7:30 to 10:00 pm at 1000 N. Glebe Road in the 1st Floor Conference Room.