Q & A: Arlington's History Bicycle Tour
Q & A: Arlington's History Bicycle Tour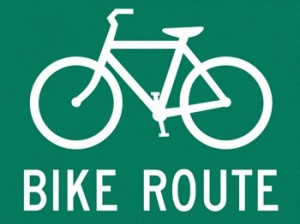 One of the best ways to tour Arlington's historic buildings and sites is from the saddle of a bike. Thanks to the Arlington History Bike Ride (which hikers can use too), you don't have to figure out a route by yourself.
The tour was created by Randy Swart, a long-time resident of the Barcroft neighborhood (his grandparents lived there too), an active participant in its civic association and other civic activities, and a biking enthusiast.
The tour starts at the old Hume School (the Arlington Historical Society museum) and stops by several different sites including Carlin Hall, Bluemont Junction, and the Glebe House, as well as lesser-known treasures such as the West Cornerstone of the District of Columbia and Dark Star Park in Rosslyn. (Randy gives credit to local historian Sara Collins for verifying the accuracy of the site descriptions.) You can read the tour narrative here and watch this condensed video version of the tour by YouTube user "Bobco85."
Randy talked to Preservation Arlington about how he developed the tour and his favorite spot along the way.
Q: What inspired you to create an Arlington history tour for bikers and hikers?
A: I have a keen interest in Arlington history, and a keen interest in bicycle riding. Putting the two together seemed like a natural.
Q: How did you figure out the route and which places to include?
A: I started with the sites that would explain Arlington's history, then worked out a route. It had to avoid busy streets and be a one-day tour for most riders, but possible to break into two to make it easier.
Q: What was your most surprising discovery as you put this together?
A: Exploring Arlington's history adds daily pleasure to living here, just understanding how things got the way they are and where the names came from.
Q: Which site or section of the tour is your favorite, and why?
A: The Glebe House sits quietly in the middle of a neighborhood, just waiting to be discovered with its interesting story.
Q: A YouTube user named "Bobco85" created a great video of the Arlington History Bike Tour. What do you think of the video?
A: The video is awesome. It gives a seven-minute quick summary of the route, but the sped-up video is of course bumpy and frenetic, so you just have to imagine it as a smooth and relaxed ride.
Q: The tour is a testament to all the historic sites that have been preserved in Arlington. Yet, many other buildings and sites have been lost. Is there a building, site, or neighborhood that you would like to see preserved?
A: I hope we will always be careful to keep our urban development separate from our residential neighborhoods.