Preservation Arlington's 2013 List of Endangered Historic Places
Preservation Arlington's 2013 List of Endangered Historic Places
National Register neighborhoods, historic and natural resources at Arlington National Cemetery, low-rise commercial architecture, and other buildings and sites make up Preservation Arlington's 2013 list of Arlington County's Most Endangered Historic Places.
1.       National Register Neighborhoods.  The proximity of Arlington's historic neighborhoods to urban amenities has caused property values to skyrocket and consumers seeking larger homes for their purchasing dollar.
The social and architectural fabric of these older neighborhoods is being threatened by over-sized and incompatible in-fill development and this could jeopardize the highly coveted National Register Designation of older residential neighborhoods such as Lyon Village, Cherrydale, Ashton Heights and Penrose.  Recent statistics attest to the alarming rate of loss: In 2012 there were 168 demolition permits issued for structures in Arlington; 122 of them were for single family homes — a house every three days.
Preservation Arlington challenges homeowners in Arlington's National Register Neighborhoods to consider saving their neighborhoods by becoming a Local Historic District with specialized design, mass and height guidelines such that new development and major additions to structures would come under review.  Communities could establish their own set of guidelines, providing an opportunity to ensure new development fits into the character of the community but still allows reinvestment to occur.
2.      The Arlington House Woods, which is threatened by the U.S. Army Corps of Engineers Millennium Project to expand the number of burial sites at Arlington National Cemetery in an area immediately adjacent to the Arlington House. 
One of Arlington's oldest forests and one of a dwindling number of such forests remaining in the national capital region, the site is visible from the Fort Myer National Historic Landmark Historic District, the National Register of Historic Places-listed Arlington House, and the National Register of Historic Places-eligible Arlington National Cemetery historic district.   The removal of trees here could account for up to a 12% loss of Arlington's tree canopy.
3.      
The Millennium Project also threatens 1,357 feet of the 1879 Seneca Quarry Red Sandstone Cemetery Boundary Wall which once encircled the entire Cemetery.
 
4.       One of the only remaining pieces of track of the Washington & Old Dominion Railway is an elevated siding on the western edge of the County located partially on private property and partially on land owned by the Northern Virginia Regional Park Authority. 
A redevelopment plan has been submitted for the private property and it is hoped that restoration of the siding and creation of an interpretive center can be included in that agreement.
5.      
Low-rise commercial architecture of the 1930s-1950s. Designs catered to pedestrians and retail space at the street level and offices above. Highly stylized signage often marked these businesses, as well as decorative cladding and expansive glazing to differentiate these structures. These buildings, with great character and sense of place, once filled the bustling retail corridors of Arlington, are now being torn down with only a handful being integrated into the new development sites.
6.      
Wilson School (1910 plus additions) and Wilson School playgrounds.  The Fort Meyer Heights School (aka the Woodrow Wilson School), is an early Arlington school originally built in 1910. Designed by prominent Richmond architect Charles Morrison Robinson, it survives as the oldest extant school building in Arlington County that is still owned and maintained by Arlington Public Schools and is the last remaining example of early 20th-century institutional architecture in the Rosslyn and Fort Meyer Heights neighborhood.  While it has been substantially altered it can be returned to its former glory as an important civic building.
7.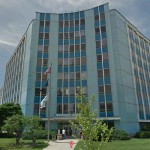 The "Blue Goose," now Marymount University Ballston Campus. Designed by John M. Walton, a leading architect of the time, this building represents an excellent example of mid-century architecture that is quickly disappearing.  It is one of those buildings which engender strong feelings but it also represents a period of time in architectural design that is just beginning to be fully appreciated.
8.      
Garden Apartments: Fillmore Gardens and other affordable housing on Columbia Pike; plus Queens Court and Key Boulevard Apartments in Rosslyn.   Since 2003 when Arlington's outstanding collection of historic garden apartment complexes was recognized by the National Register of Historic Places, the county has lost a significant number of these distinctive housing complexes.  Historically and today, these apartments have provided affordable, quality homes for Arlingtonians.   A number of smaller complexes are also imminently threatened with redevelopment.
Click here for the full report, which also highlights recent preservation losses, such as the Febrey-Kencheloe House and the Certigrade House, as well as success stories including the Green Valley Pharmacy, now a recently designated local historic landmark.