UPCOMING MEETING: Blue Goose Redevelopment
UPCOMING MEETING: Blue Goose Redevelopment
The proposed redevelopment of the building at 1000 Glebe Road, better known as the Blue Goose, will be considered at an upcoming meeting of the Arlington Planning Commission's Site Plan Review Committee (full agenda here).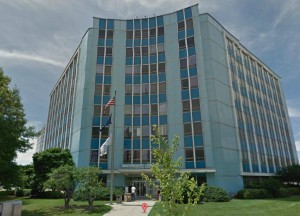 This meeting will be an informational presentation on the proposed redevelopment from the applicant and County staff, which will also include an overview of the site's land use and zoning and how this and the proposed changes correlate to neighboring sites and the County's General Land Use Plan.  The second part of the meeting will cover site design characteristics; one of the seven items in that category is the historic status of any building on the property.
Currently, the proposed project calls for complete demolition of the existing building and the loss of the Blue Goose.  The initial staff report states:
"While the building is not on the County's Historic Resources Inventory and is neither designated on a national or local historic registry, it is a distinct and important example of polychrome modern architecture.

The applicant should consider saving and reusing portions or all of the facade. People respond to this building because of the interplay of color, geometry and materials. Additionally, it politely addresses both the corner and the street using the beginning of the campus-style that was just becoming in vogue for office buildings. Some of this feeling should be replicated in the way the building interacts with the streetscape."
The Blue Goose was included in Preservation Arlington's 2013 list of the County's Most Endangered Historic Places.
MEETING DETAILS
DATE:    Thursday, June 20, 2013
TIME:     7:00 – 9:00 p.m.
PLACE: Courthouse Plaza
Conference Room 109/110 (C&D), Lobby Level
2100 Clarendon Boulevard
Arlington, VA 22201