The Last Days of the Navy Annex
The Last Days of the Navy Annex
Built in 1941 during the booming war effort in Washington, D.C., the Navy Annex overlooking the Pentagon is now nearly gone.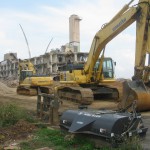 After more than a decade of negotiating and planning, the Department of Defense is close to completing its demolition of the building to make way for an expansion of nearby Arlington National Cemetery. Once the demolition is complete, the site will be converted to a grass field pending its incorporation into the cemetery.
Once known simply as Federal Office Building No. 2, or FOB 2, the Navy Annex had enough space for 6,000 employees, with 1 million square feet of real estate. For most of its history, it housed the U.S. Marine Corps headquarters and numerous Navy offices in a blocky and rectangular "streamlined classical" building. The main entrance facing South Gate Road featured four three-story door frames, with ornamental blue panels festooned with golden eagles.
By the 1990s, the building was widely criticized as obsolete. The FY 2000 Defense Authorization Act included provisions to transfer the Navy Annex site to the cemetery, with the agreement that it would be demolished within 15 years.
The agreement also included the possibility of building some kind of museum or memorial on the site, including the construction of an Arlington heritage museum. In 2001 part of the land was turned over for the construction of the U.S. Air Force Memorial, completed in 2006.
For years, county officials and the Black Heritage Museum of Arlington were also planning to use part of the site to interpret Freedman's Village, built during the Civil War for freed slaves. Last year, Defense officials announced that this long-held agreement was null and void, and the parties were going back to the drawing board.