Long-Awaited Lustron Exhibit Opens in Ohio (Updated)
Long-Awaited Lustron Exhibit Opens in Ohio (Updated)
On July 13, the Ohio Historical Society opened its highly anticipated exhibition, 1950s: Building the American Dream, featuring a fully rebuilt Lustron house that originated in Arlington and was the subject of a long preservation effort.
Both the New York Times and the Columbus Dispatch reviewed the exhibit. (The Dispatch piece includes a terrific slideshow as well.) The exhibit includes a panel acknowledging Arlington County's contribution (photo courtesy OHS).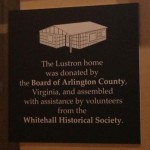 In honor of the exhibit, our friends at Retro Renovation devoted two blog posts to all things Lustron: The first post delves into the history of the Lustron house (only about 2,500 were built nationwide) and includes photos of Lustron #549 being reconstructed at OHS.
The second post includes a series of photos taken by the Historic American Buildings Survey and talks about The Illustrious Lustron: A Guide for the Disassembly and Preservation of America's Modern Metal Marvel, that was written by Arlington County Preservation Planner Cynthia Liccese-Torres and Preservation Arlington blogger Kim O'Connell.
The exhibit will be on display at the Ohio History Center for five years. Anyone want to road-trip to Columbus?
DETAILS:
Admission: $10/Adults, $9/Seniors, $5/Children 7-12, Free/Children 6 and under, Free/OHS Members.
Hours: Wednesday-Saturday, 10 a.m.-5 p.m.; Sunday, noon-5 p.m.
Location: Ohio History Center is located at 800 E. 17th Ave., Columbus, Ohio 43211.
www.ohiohistory.org