National Trust's Move to Watergate Highlights Arlington's Watergate Connection
National Trust's Move to Watergate Highlights Arlington's Watergate Connection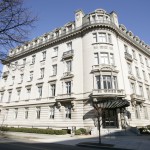 The National Trust for Historic Preservation (NTHP) has just completed the sale of 1785 Massachusetts Avenue, N.W., the historic Beaux-Arts building in Washington D.C.'s Dupont Circle neighborhood where it has held its headquarters for the past 34 years. To the surprise of some observers, the NTHP has announced plans to move its headquarters to the Watergate complex in Foggy Bottom.
The 10-acre Watergate complex, constructed from 1963 to 1971 and famous for its role in the downfall of President Richard Nixon, is an iconic example of modern design by Italian architect Luigi Moretti. This potential move demonstrates the growing prominence of modern and post-modern design in nationwide matters of historic preservation, for which Preservation Arlington is a long-time advocate.
The National Trust's move is also a reminder of how the Watergate scandal played out across the river, in a parking garage in Rosslyn–the site of secret meetings between Washington Post reporter Bob Woodward and FBI official Mark Felt, known to history as "Deep Throat."
In 2011, a historical marker was placed at the site. Here is the full text of the marker:
Mark Felt, second in command at the FBI, met Washington Post reporter Bob Woodward here in this parking garage to discuss the Watergate scandal. Felt provided Woodward information that exposed the Nixon administration's obstruction of the FBI's Watergate investigation. He chose the garage as an anonymous secure location. They met at this garage six times between October 1972 and November 1973. The Watergate scandal resulted in President Nixon's resignation in 1974. Woodward's managing editor, Howard Simons, gave Felt the code name "Deep Throat." Woodward's promise not to reveal his source was kept until Felt announced his role as Deep Throat in 2005.
And just for fun, here is a clip of Robert Redford and Hal Holbrook meeting as Woodward and Deep Throat, from the classic movie All the President's Men:
Thanks to Molly McDonald for this post.