Arlington's Most Endangered Historic Places — 2014
Arlington's Most Endangered Historic Places — 2014
As we end National Preservation Month, Preservation Arlington is releasing the 2014 Endangered Historic Places List to heighten awareness of historic sites and resources in the county and to inspire advocacy on behalf of preservation within the Arlington community. This year's endangered list includes both individual historic buildings as well as building types, along with other important places such as graveyards and public parks. This is the third in a series of lists we released this month, including the 2014 Arlington's Protected Historic Places and 2014 Arlington's Lost Historic Places lists.
Key Boulevard Apartments. A nearly perfect example of Arlington's garden apartment housing style, this 1940s-era project was once thought to be preserved by a 1981 site plan approval,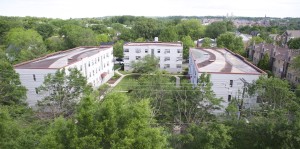 which transferred its unused density to an adjacent site to allow for the construction of a luxury condominium building. It is now threatened by a site plan amendment to demolish the building and redevelop the site by transferring unused density from a national preservation award-winning project in Ballston, which is also owned by one of Arlington's non-profit housing providers. One historic site should not be used to enable demolition of another, especially not one already saved by a 1981 County Board action.
Arlington Presbyterian Church. Designed by a
prominent local architect, and with a cornerstone tied to George Washington and the U.S. Capitol, this place of worship was called out in a 2005 Arlington County study as being "noteworthy historic property that contribute[s] to the character and integrity of [Columbia] Pike." Although it was recognized by the HALRB as meeting the criteria for historic designation, it was not designated. Redevelopment plans are moving forward and, if this building is demolished, a visual reminder of the past and the continuity of community that this landmark provides will disappear.
Parkland Open Space. Both the Lubber Run Community Center and surrounding parkland, as well as the Potomac Overlook Regional Park, have been included in recent land grabs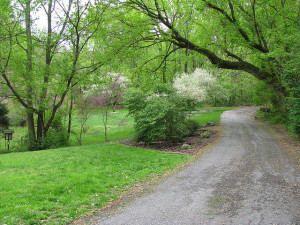 to develop and monetize the county's rapidly decreasing open space and tree canopy. Once natural open space is developed, it is not possible to regain it. Both of these properties have substantial areas that are not programmed for specific uses and provide much-needed creative and individual outdoor enjoyment. As we continue to further urbanize, parkland becomes an ever-more-valuable asset. It needs to be off-limits to redevelopment.
East Falls Church – Remnants of an Industrial-Commercial Hub.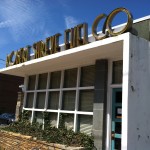 The last few buildings of this area's important role as a commercial hub in the 20th century are threatened by the redevelopment that is expected to occur with the arrival of the Silver Line transfer station at East Falls Church. Proactive steps now will help ensure that buildings of character and past history will help tell the story of the transformation of this part of the community.
Wilson School. The future of the Fort Myer Heights School (also known as the Woodrow Wilson School), an early Arlington County school originally built in 1910 and located at 1601 Wilson Boulevard in the Fort Myer/Rosslyn neighborhood, continues to hang in the balance. Designed by prominent Richmond architect
Charles Morrison Robinson, the Wilson school survives as one of the oldest extant school buildings in Arlington County. While severely altered, it is the last remaining example of early 20th-century institutional architecture in the Rosslyn and Fort Myer Heights neighborhood. A high-profile building designed by a prominent Virginia architect over 100 years ago is worthy of preservation.
Mid-Century Arlington Architecture.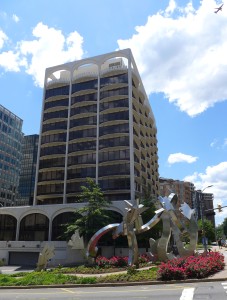 Although less understood and celebrated than other well-known design eras, mid-century modern architecture reflects a very pivotal time in our nation and in Arlington County. Arlington has numerous classic buildings of mid-century architecture that need to be preserved before it is too late. Arlington County needs to conduct a survey of mid-century modern architecture and determine which examples are worthy of protecting as landmarks of our community's 20th-century history and development.
Family Graveyards. Arlington County is best known for the major national cemetery at its heart, but the county also boasts dozens
of little-known family graveyards. As time passes and family members and descendants grow more distant from their buried ancestors, many of these graveyards are falling into a state of disrepair and neglect, and are threatened by encroaching development. Preservation Arlington encourages Arlington County to assist stewards of these family graveyards to investigate, document, and preserve these properties, before any more of these family histories are lost.
Click here for a detailed report about the history of each of these important places and the threats they now face.