2014 Arlington's Protected Historic Places List
2014 Arlington's Protected Historic Places List
Preservation Arlington is pleased to present, on the first day of Preservation Month 2014, the 2014 Arlington's Protected Historic Places List. Each year, Preservation Arlington releases an Arlington's Most Endangered Historic Places List to heighten awareness of historic sites and resources in the county and to inspire advocacy on behalf of preservation within the Arlington community. In 2014 we have developed three separate lists — Protected, Lost, and Endangered — that will be released during Preservation Month 2014. During 2013, four properties in Arlington County were protected through historic preservation measures and three other already- protected properties received some much-needed investment and stabilization.
On May 13, Preservation Arlington presents a panel discussion on The State of Preservation in Arlington County. It will be held from 7 to 9 PM in the Fillmore Room at the Boulevard Woodgrill, 2901 Wilson Boulevard, Arlington. For more information visit www.preservationarlington.org
PROTECTED IN 2013:
Green Valley Pharmacy, 2415 Shirlington Road, local historic district designation
Fraber House, 1612 North Quincy Street, local historic district designation
Kenyon Peck Chevrolet (now Walgreen's), 2825 Wilson Boulevard, easement
The Clarendon Building, 1408 North Fillmore Street, easement
Fort Ethan Allen, 3829 North Stafford Street, stabilization/investment
Carlin Community Hall, 5711 4th Street, South, stabilization/investment
Crossman House, 2501 North Underwood Street, stabilization/investment
Green Valley Pharmacy. Green Valley Pharmacy is the county's longest continuously operating African American-owned pharmacy. Built in 1942 as a grocery store by the Hyman family, the building is within central Nauck, a community dating back to the mid-19th century that is rich in African American history.
Dr. Leonard Muse opened the pharmacy in 1952 to serve African Americans who, during that time of racial segregation, were not served by the county's white-owned pharmacies. It became a successful business that served the greater Nauck area along with other service-oriented African American-owned businesses such as Naomi's TV, Chinn's Funeral Home, and the Friendly Cab Company. These businesses provided much-needed services to the local African American community and continue to thrive today.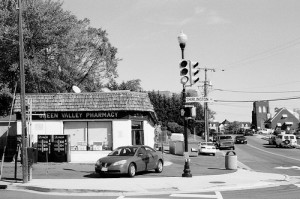 In January 2013 the Arlington County Board voted to designate the neighborhood landmark as an Arlington County Local Historic District. The designation recognizes both the historical and cultural significance of the site and honors Muse's lifetime of contributions to his community. Designation means that the building and its legacy will be protected through local review of exterior changes proposed for the building. County staff is available to provide advice to the owners in undertaking basic maintenance and repairs to the site, and the Historical Affairs and Landmark Review Board (HALRB) will review requests for changes to the exterior or the introduction of new design elements.
Fraber House. Built in 1913, the Fraber House has anchored a prominent corner in Cherrydale and witnessed the county's remarkable growth for over a century. This three-bedroom bungalow, with a wide front porch characteristic of the housing type, was built for its original owners, John and Lucia Fraber, by prominent local builder Jack Spates. The property includes a two-car detached garage by the same builder.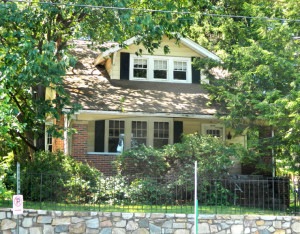 Although not a catalog house, the bungalow is reminiscent of the Sears kit houses that can still be seen throughout the county and may have been inspired by a catalog design. Last year, while owned by Arlington County, the Fraber House became one of the county's newest Local Historic Districts, affording it the strongest possible protection against demolition or inappropriate changes by any future owner. The house recently sold to preservation-minded new owners and is a preservation success story in Arlington.
Kenyon Peck Chevrolet and The Clarendon Building. Low-rise commercial buildings along the Wilson/Clarendon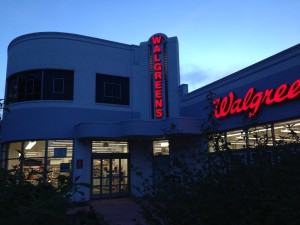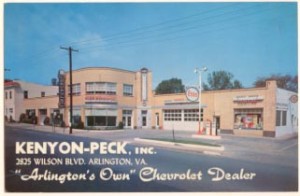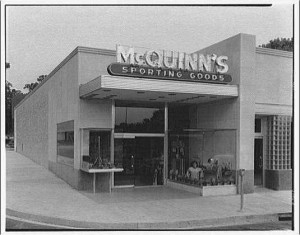 Boulevard corridor are generally acknowledged as endangered by high-density development. Because of the Penzance development parcel bounded by Washington Boulevard, N. Garfield Street, 11th St, and N. Highland Street, two of Clarendon's historic commercial buildings are now safer than they were when the project began. The development project has retained historic commercial facades at the site but also enabled historic preservation easements for the Kenyon Peck Building (now Walgreen's) and the Clarendon Building (occupied by Faccia Luna, Boulevard Woodgrill, and offices), located blocks away from the construction.
The easements are made possible by recommendations in the Clarendon Sector Plan (2009), which allows developers to increase building density on historic sites in exchange for these types of easements. The easements are focused on the building envelopes (not the interiors), and specifically identify features that cannot be altered or lost, like original windows and ornamental embellishments. These two buildings are eligible for this type of protection because they are both listed as "Important" in the county's Historic Resources Inventory.
The Kenyon Peck building is a great example of pre-WWII commercial construction, showcasing a curvilinear footprint and prominent sign panel on the façade. The Clarendon Building retains its significance as an example of a mid-century commercial building, with added importance because of its siting on a corner along a major thoroughfare.
Fort Ethan Allen. This past March, a crowd of over 100 people came out to witness the unveiling of new interpretive markers at Fort Ethan Allen, a crucial link in the chain of forts that encircled Washington, D.C., during the Civil War, and one of 22 that were built in Arlington County. The markers represent just the latest effort to protect and interpret this significant site. In the 20th century, after adjacent construction (such as the building that would become the Madison Community Center) destroyed the fort's southeast bastion, the county named it a Local Historic District. In 2006, after a public outcry, the county also moved a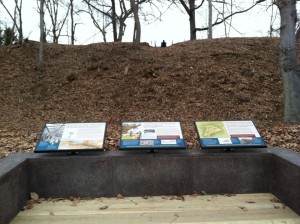 controversial dog exercise area from the center of the fort to another location, and in 2007 a crucial cultural landscape inventory was performed for the site. Representing a successful partnership between the county and local citizens, the new interpretation includes several markers and a reconstructed gun emplacement, including a 20-pound Parrott gun.
Carlin Hall Community Center. Built in 1892 as a community building for the Carlin Springs Cooperative Association, Carlin Hall Community Center is the oldest purpose-built community building in Arlington. Listed on the National Register of Historic Places, on the Virginia Landmarks Registry, and designated a protected local historic site, it has continuously served the historic neighborhood (now known as Glencarlyn) as a location for community meetings, a social center, a church, a public library, and school, and is known for its Late Victorian-era architecture. In 1962 the Carlin Hall Association transferred Carlin Hall to Arlington County for use as a recreation center.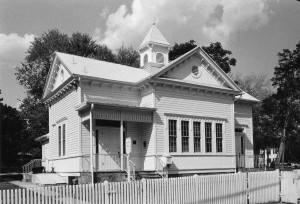 In 2009 and 2010, energy retrofits undertaken by the Arlington Initiative to Rethink Energy (AIRE) upgraded the lighting for efficiency, weatherized the building, and installed a new boiler. Together with the 2012-2013 restoration, these measures have transformed the historic building's energy footprint by cutting its natural gas use by nearly half and dramatically improving the energy used to operate the facility. In 2013, the County completed a structural stabilization of the building. All of the restoration work was reviewed and approved by the HALRB.
Crossman House. Built in 1892 in the East Falls Church neighborhood by dairy farmer George Crossman, the Crossman House is a two-and-a-half-story Late Victorian farmhouse that evokes Arlington's rural history. It was listed on the National Register of Historic Places in 2003 and has been a protected local landmark since 1986.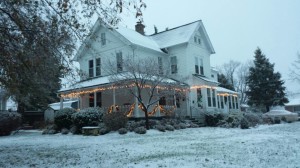 Set atop a fieldstone foundation, the T-shaped house features a cross-gable roof, a large wraparound porch, and turned balustrades and porch posts. In 2012, Leslie Aun & Buzz McClain purchased and restored the house, which had fallen on hard times and was bank-owned. With oversight from the HALRB and expertise from a knowledgeable builder and architect, the couple created a comfortable, modernized home while recycling a bit of Arlington history.
Preservation Arlington begins Preservation Month 2014 by congratulating the owners of these properties for taking the extra steps and effort to preserve the important historic resources in their care. Each of them worked closely with Arlington County to do it the right way. We celebrate these successes and look forward to more great stories here in Arlington.
Preservation Arlington is a nonprofit organization dedicated to protecting and improving the quality of Arlington's distinct architectural heritage. Through education and advocacy, Preservation Arlington brings together people and organizations to influence the future of Arlington's historic buildings, landscapes and communities. Preservation Arlington was originally founded in 1989 as the Arlington Heritage Alliance.