SAVED: The Crossman House
SAVED: The Crossman House
We are pleased to publish this guest post from Leslie Aun, who purchased and restored the historic Crossman House in 2012. Her story illustrates how dedicated homeowners can resurrect a valuable but needy property with passion and perseverance. (Be sure to scroll down for a photo gallery of the house, with before and after shots of the renovation. All photos courtesy of the author.)
The year was 1892 and President Grover Cleveland had been elected to a second term, Sherlock Holmes had begun solving mysteries, and Thomas Edison was patenting the telegraph. In what was then Alexandria, Virginia, a young farmer named George Crossman was finishing up work on a cross-gabled, two-story house for his soon-to-be bride in what is now the East Falls Church section of Arlington.
George was just a boy when his family moved to the area from Pennsylvania just after the Civil War. The Crossmans were prosperous, and when George married Nellie Dodge of Lewinsville (now McLean), his father Isaac gifted him with 65 acres of prime farmland.
The property stretched from what is now Sycamore Street down to Westmoreland and over to I-66. Crossman cows once roamed pastures where Bishop O'Connell High School and Tuckahoe Elementary are now located. The couple raised four children in the wooden farmhouse, which, according to news articles of the era, did not get central plumbing until a particularly cold winter in the 1930s. One imagines that Nellie, who was by then in her 50s, had finally had enough of the outhouse!
When the property was finally sold to developers in 1949, it was one of the last remaining dairy farms in Arlington County, which was rapidly shedding its agrarian roots as it evolved into a bedroom community for the Nation's capital.
A Farmhouse in Foreclosure
Fast forward more than a half century, and my husband Buzz McClain and I were looking to make a lifestyle change. After a decade of living in Great Falls, we had grown weary of the big house and even bigger commute and were interested in moving back to my hometown. I had grown up in Lyon Village and bought a house in Cherrydale after college.
I stumbled across the Crossman House online — it had been owned by just three families since the 1950s. It had been designated as an Arlington County Local Historic District in 1986 and included in the National Register of Historic Places in 2003. By the time we found it in March 2012, the house was owned by a bank and in need of serious renovation.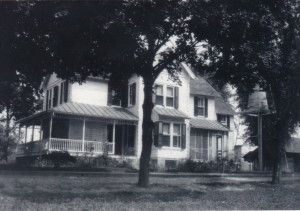 A Victorian farmhouse in foreclosure requiring drastic repairs and updates that would have to meet Arlington's exacting standards for historic restoration. What could possibly go wrong? Luckily for us, not too much.
After an intensive search, we hired Commonwealth Restorations to do the work. With more than 35 years of local experience, we figured owner Bob Strunk would do a great job and, just as importantly, guide us through the process with Arlington's Historic Affairs and Landmark Review Board. (Strunk is also a graduate of Washington-Lee High School.) We ultimately had a great experience with the HALRB and the entire Arlington County historic preservation team, including then-director Michael Leventhal and planner Rebeccah Ballo. They gave us great advice and smoothed the path as we sought the necessary approvals to move forward with what would turn out to be a very complicated project.
We did not want to live in a Victorian museum. Our goal was to be respectful to our new-old home's historical roots, but not be a slave to them. It would take nearly six months to pull the house apart and put it back together in the realization of that vision.
Salvaging and Updating History
Drop ceilings were ripped out, miles of wiring updated and ancient plumbing removed or relocated. The fireplace was restored, the chimney repointed with tinted mortar, the floors refinished and stained and 36 (count 'em) storm windows replaced. Upstairs, a ceiling was lifted and a doorway added, converting two Lilliputian spaces into a bedroom that could accommodate our 16-year-old son. An old porch that had been enclosed years ago was opened to the tiny existing kitchen to create a modern eating and cooking space. The dirt floor basement, puddled with water when we first toured the house, was covered in concrete and waterproofed, and the musty smell that once greeted you at the door is finally gone.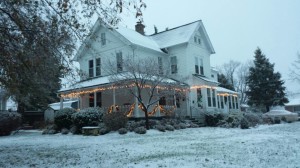 While we replaced the oil furnace with natural gas, we held on to the wonderful old iron radiators while adding a high-efficiency air conditioning system. Meanwhile, four ridiculously huge pine trees that were killing the grass and obscuring the house from view were taken down. The neighborhood cheered. (Because of the local historic district status, the HALRB had to approve the removal of the pine trees, the lifting of the roof, and the creation of a back door.)
From the old doors, antique light fixtures and push button switches, we salvaged history wherever we could. Old center-cut planks from a ceiling that was raised were used to build a custom-made kitchen island by a talented carpenter from Hagerstown. When a section of drywall was pulled down to reveal the original clapboard exterior of the house, we left it exposed because of the texture it adds to the house.
When an architect told us that our renovation would not work unless we removed the back stairs, we quickly parted ways. The decorator who recommended a traditional kitchen island and hanging kitchen cabinets met a similar fate.
We didn't want to entirely ignore our farming heritage. So while you won't see cow curtains, an old dairy sign was rendered into tile that now serves as a central accent of the kitchen. If you pay attention, you can see various artifacts that pay homage to our bovine past.
Our hope was to maintain the historic feel of the house while updating it to the needs of a modern family. We wanted guests to share our pleasure in its graceful design and historic details without being able to guess exactly what had been updated.
We love serving as caretakers of this wonderful slice of Arlington history. And we very much hope that George and Nellie would approve of the updates we have made to their lovely home.