Free Sears House…
Some Assembly Required
Free Sears House…
Some Assembly Required
On occasion, Preservation Arlington will highlight unique historic houses that are on the market in Arlington County. In this case, the house is not for sale, but free to a caring new owner. With this column, we hope to raise awareness of some of the true housing gems we have here. Some might be in great condition and just need to be maintained by their next owner, while others may need a steward with heart and passion to restore and stabilize the property. These are not commercial listings or endorsements by Preservation Arlington.
From 1908 to 1940, the Sears, Roebuck and Company sold more than 70,000 kit houses through the Sears Modern Home catalog. Much like buying furniture from IKEA, anyone could purchase a home (and a mortgage) through a mail order catalog, have pre-cut and fitted materials shipped to your door step and voila…you would have a home, with some assembly required.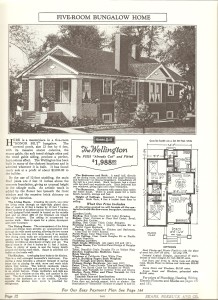 Sears houses came in over 447 different housing styles, from elaborate multistory mansions to small vacation bungalows. Central heating, indoor plumbing, dry wall, asphalt shingles, and electricity were all new developments that Sears Homes incorporated in their homes. Suburbanites were drawn to this innovative and inexpensive option, dotting the neighborhoods of Arlington with Sears homes today (along with other, similar "kit houses").
On behalf of their client, Arlington-based architects Paola Lugli and Paola Amodeo, of the firm Paolasquare international, are offering a free Sears house at 3010 7th St. N. (near Pershing Drive in Lyon Park). The house, built in 1926, is a Wellington model Sears home. Originally priced at $1,998, this lot recently sold in September 2013 for over $750,000.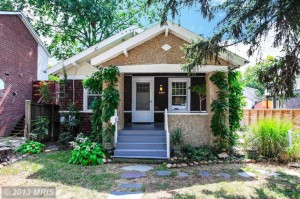 However, the needs of the homeowner do not meet the constrictions of the current home. Rather than bulldoze this historic property, the homeowner is interested in giving it away for only the cost of moving the home.
"When we got the project, we spoke with our client, and we all agreed that the house should not be demolished," Lugli says. "Unfortunately, given its positioning on the very narrow lot and the programmatic requirements of the client, we cannot integrate it in our project. The Sears bungalows are part of Arlington's historic heritage and boast great proportions, hard-to-find craftsmanship, and attention to detail. We would love for someone to move it somewhere where it can be used."
This gorgeous, sun-filled bungalow has been altered very little since 1926; historic detail and character are abundant, while still keeping a very modern feel. A small screened-in porch as been added to the rear. The home is currently a contributing structure in the Lyon Park National Register Historic District.
"As architects, we prefer saving well-built historic homes," Lugli says. "It is a better choice for the character of the city and it is also truly eco-friendly. Our projects typically involve remodels that preserve the existing house and upgrade its basic functions and circulation patterns to accommodate a more modern lifestyle. This is a fairly typical approach and the results can be really beautiful."
The architects can provide the name of companies with experience in moving homes upon request.
If interested in this property, please contact either principal of Paolasquare international:
Paola Lugli — lugli@paolasquare.com
Paola Amodeo — amodeo@paolasquare.com
Additional Resources on Sears Houses:
* Sears Homes Archive
* "Bedrooms and Bungalows," Arlington magazine article
* "Sizing up Sears 'kit' homes for today's living style," Washington Post article
Wellington Home photo credit: Sears, Roebuck Catalog of Houses, 1926, An Unabridged Reprint, Dover Publications, NY