Historic Housing for Sale: Colonial Village
Historic Housing for Sale: Colonial Village
It is a prime time to move to Colonial Village!
Now largely a condo community, the historic garden apartment development at Colonial Village was the first Federal Housing Administration-insured large-scale rental housing project in the United States. Begun in 1935, it served as a model for FHA projects as well as for exemplary site planning, landscaping, construction type, and design. Colonial Village, in its entirety, is now listed on the National Register of Historic Places as well as on the Virginia Landmarks Register.
Renowned Washington architect Harvey Warwick designed the two- and three-story brick Colonial Revival buildings, accented with soldier courses, brick-dentiled cornices, pilaster and pediment door surrounds, as well as ornamental roundels and other brickwork. Though Warwick's The Westchester, a Gothic revival high-rise apartment house on Cathedral Avenue in downtown Washington, was arguably his best-known work, he was the pioneer architect for the garden apartments that would bloom throughout the northern Virginia suburbs. He worked with developer Gustave Ring at Colonial Village, and together they received widespread acclaim and national media coverage for the housing project.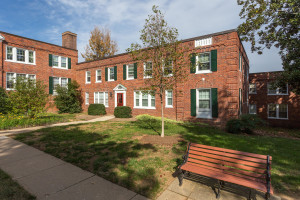 The gently sloping landscape and tranquil, park-like setbacks at Colonial Village create the bucolic setting residents rave about. The overall layout and landscape design of the 50-acre complex remain extraordinarily true to its mid-1930s plans. A stroll through Colonial Village will reveal shaded courtyards, natural greenbelts, diverse varieties of trees and foundation plantings, and a brook.
With these great listings active in Colonial Village, that same picturesque stroll could lead you to your new front door.
(Click on the listings below to see the individual properties.)
Phase 1 (completed 1935)
1720 Queens Lane #3-169
1737 Queens Lane # 1-127
1801 Queens Lane #2-138
1808 Queens Lane #4-215
1746 Rhodes Street #314
Phase 2 (completed 1936)
1909 Key Boulevard #11557
1911 Key Boulevard #11568
2017 Key Boulevard #612