2014 Arlington's Lost Historic Places List
2014 Arlington's Lost Historic Places List
Preservation Arlington presents the 2014 Arlington's Lost Historic Places List. Each year, Preservation Arlington releases an Arlington's Most Endangered Historic Places List to heighten awareness of historic sites and resources in the county and to inspire advocacy on behalf of preservation within the Arlington community. In 2014 we have developed three separate lists — Protected, Lost, and Endangered — that will be released during Preservation Month 2014. During 2013, several distinctive properties in Arlington County were lost or slated for demolition and with them, an important part of Arlington's story is also gone.

LOST IN 2013:
– Single-Family Houses
– 1000 North Glebe Road, aka the "Blue Goose"
– Arlington House Woods & Arlington National Cemetery Seneca Sandstone Perimeter Wall
– Garden Apartments

Single-Family Houses. In 2013, a total of 179 single-family homes were demolished in Arlington County — that amounts to one every 48 hours. A great example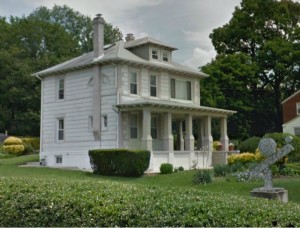 of what this loss means to the character of Arlington County is a home at 1827 North Lexington Street. This home was built by the owner of the Cherrydale Block Company, which supplied the majority of the decorative blocks used for the bases of homes from that period. His home was made completely of Cherrydale Block as a testimonial to the product he provided. The demolition of that home erases that part of Arlington's important commercial and residential history. The number of permits issued in 2013 was a 45% increase over 2012. Over the past five years, a total of 609 demolition permits for single-family homes were applied for in Arlington County.
1000 North Glebe Road, aka The Blue Goose. Sitting at the front door of Arlington and the Ballston business district, 1000 North Glebe Road is an extremely valuable piece of land. When originally purchased by Marymount University, it was
remarked by university leaders that the building matched the school colors. Over the course of the past year extensive discussions were held about the redevelopment of the site. In January 2014, the County Board approved amendments to Site Plan #64 to allow for a major redevelopment there, which will result in the demolition of the Blue Goose. As a result of negotiations with the developer a number of the building's famous blue panels will be saved and preserved. Several of these panels will be used in the retail space. Others will be made available for display at several local museums, including the Arlington Historical Society Museum. In addition, between the office and residential building will be a plaza with a historical marker containing several panels and commemorating the 50+ years that the Blue Goose stood on this site. Other architectural details such as lighting and design tiles in the outdoor plaza and on the building will pay homage to the Blue Goose. While the Blue Goose will be lost, at least parts of it will remain in some form.

Arlington House Woods & Arlington National Cemetery Seneca Sandstone Perimeter Wall. Despite outcry from national conservation and preservation groups including the National Trust for Historic Preservation and the Sierra Club, Arlington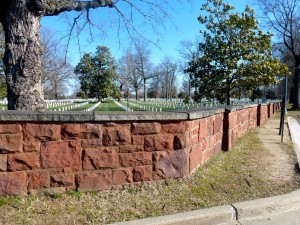 National Cemetery (ANC) has approved plans to expand burials into a portion of the 27-acre historic Arlington House Woods and to disassemble a segment of the historic Seneca sandstone perimeter wall. The woods are recognized both as one of the last remaining stands of old-growth woodland in the D.C. Metro area, but also as an important historic landscape feature that dates back to the days when the Custis and Lee families lived at Arlington House. The woodland serves as a important buffer and backdrop to the mansion house and one of the few elements of the setting that remains very close to its condition prior to the cemetery's establishment in 1864. Portions of the Seneca standstone wall will be used to face a modern concrete wall and ANC will install an interpretive display in the vicinity of Arlington House Woods. Although the project was greatly reduced in impact from 8.5 acres to 2.5 acres, the loss of the 150-year-old trees and construction of new roadways will greatly impact the setting of Arlington National Cemetery. Once this natural setting, which greatly contributes to the solemnity of this site, is gone, it is not replaceable.
Garden Apartments. One of Arlington's most recognizable housing forms — the brick garden apartment building — continued to disappear last year. As an existing form of market rate affordable housing, these garden apartment buildings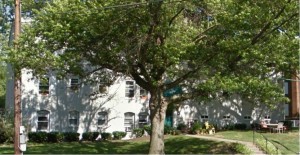 are often well located on parcels of land with generous zoning categories from a different time in land-use policy. While offering decent and affordable housing in convenient locations, they are also on prime land. The 1940s-era garden apartments at 1005-1009-1015 North Kensington Street sat on land that had a zoning category for townhouses. Capitalizing on this, the small buildings were sold for $4 million and the site is being redeveloped "by-right" into 20 luxury townhouses. Garden apartments in all areas of Arlington are an existing and market rate affordable housing option and they continue to disappear at an alarming rate.
Preservation Arlington urges property owners to consider ways to preserve historic buildings and features and incorporate them into new development.