UPCOMING MEETING: Blue Goose Redevelopment
UPCOMING MEETING: Blue Goose Redevelopment
Members of the Arlington Planning Commission's Site Plan Review Committee (SPRC) will be holding a meeting on Monday, December 9, to discuss proposed redevelopments in Arlington. The second part of that meeting, from 8:30 to 10:00 pm, will cover the Blue Goose, the building owned by Marymount University at 1000 N. Glebe Road. The building, which was included on Preservation Arlington's 2013 list of Endangered Historic Places, is now threatened with demolition as part of plans to redevelop the site.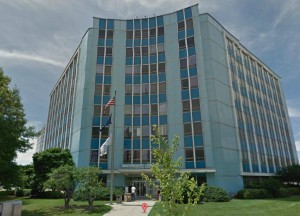 UPDATED: The staff agenda for the December 9 meeting is now available on the County website. At the last SPRC meeting the developer was asked to further address details related to the gateway corner, historic references to the existing building and other architectural details.
The Historic Affairs and Landmark Review Board (HALRB) has sent a letter to the Planning Commission that offers a very good discussion of why this building and its materials are important. The letter states, in part:
The Blue Goose is one-of-a-kind in that it is a rare example of Arlington's Modernist commercial history and also presents a touch of whimsy in a vibrant urban place….The HALRB feels strongly that there is opportunity to express creativity in the new proposal as an alternative to complete demolition, which could better preserve key aspects of the Blue Goose while still enabling Marymount to meet its needs for a Ballston campus.
County staff, representatives of the HALRB, and the applicant have discussed historic preservation of the building, along with rezoning and other considerations, at previous meetings as well; notes from previous meetings about this building are available on the County website.
DATE: Monday, December 9, 2013
TIME: 8:30 – 10:00 p.m.
PLACE: 2100 Clarendon Boulevard
Courthouse Plaza, Room 109/110
Arlington, VA 22201