Historic Houses for Sale: Bungalows
Historic Houses for Sale: Bungalows
The bungalow, as a residential form, proliferated in Arlington in the 1910s and 1920s. On the market now are three wonderful houses built circa 1910 to 1925 that represent the popularity of the residential style during that period. Usually modest one- to one-and-a-half-story houses, bungalows were approachable and even more affordable to the middle class when they became available in pre-fab kits from retailers like Sears, Roebuck and Company (see Arlington magazine's recent feature article on this topic here).
Two of the bungalows on the market are contributing resources within the Cherrydale Historic District, and walking distance to its historic commercial strip along Lee Highway. The third is a contributing resource in the Lyon Park Historic District, west and north of Arlington Boulevard across from Arlington National Cemetery.
• A chance to live in luxury in historic Cherrydale: 2001 N. Randolph Street is a three bed/three bath, renovated and expanded bungalow that retains exemplary Craftsman-style features inside and out. Large dormers and a spacious inset front porch offer its circa 1917 historic character as well as natural light and outdoor living space. Unlike many secondary historic buildings, the detached garage on the property still remains. (Click here for the listing.)
• Just blocks away is 4123 21st Road North, another Craftsman-style bungalow in the Historic District of Cherrydale. Although it represents the same residential building practices of the early 20th century, this house fronts the street more closely and deliberately in response to its deep, sloping lot. The prominent front porch is three bays wide, inset, and resting on square tapered columns typical of the Craftsman style. (Click here for the listing.)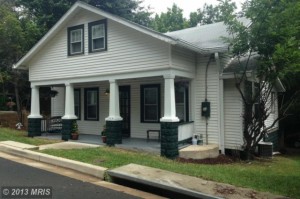 • 300 N. Edgewood Street offers another chance to live in one of Arlington's historic bungalows. It is at the center of and is a contributing resource to the Lyon Park Historic District. Another prominent inset front porch here faces Edgewood Street, with character-defining wide eaves providing additional comfort. A 2004 renovation of this ca 1910 resource upgraded appliances and finishes while preserving the forms and features that make it a recognizable Craftsman-style bungalow. (Click here for the listing.)
On occasion, Preservation Arlington will highlight unique historic houses that are on the market in Arlington County. We hope to raise awareness of some of the true housing gems we have here. Some might be in great condition and just need to be maintained by their next owner, while others may need a steward with heart and passion to restore and stabilize the property. These are not commercial listings or endorsements by Preservation Arlington.