I Love My Historic House: Patrick in Aurora Hills
I Love My Historic House: Patrick in Aurora Hills
In this series, homeowners answer five short questions about living in an older or historic Arlington home. Our latest entry in this series comes from Aurora Hills resident Patrick Johnson, who has maintained his Sears catalog house's historic features while updating it for modern comfort — and adding one recognizable "creature" in the front yard.
Q: Briefly describe your house. What style is it, what year was it built, and what neighborhood is it in?
A: My house was built in 1931 by Margaret and Percy Finicey. Percy was the first paid fire Marshall of Arlington County. This is an English Cottage-style kit house from Sears Modern homes — the "Bellewood" Model.
Q: What attracted you to this house?
A: The sloping arch of the roof line, the round-top door, and it's just plain cute and cozy!
Q: Are there any challenges to owning and living in an older house?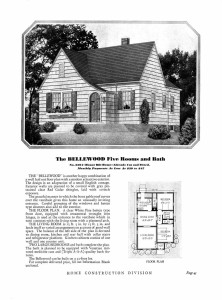 A: LOL — how much time do we have? It's a labor of love and dedication. When a house gets older it gets more of a "coming into its own self" and personality, with a ding here, an "oops" there, and history here and there.
Q: Has the house undergone any changes since it was built? Have you done any updates or renovations?
A: A war apartment was added in the attic/upstairs during the war by Mrs. Finicey. There have been no major updates other than infrastructure, wiring plumbing, air conditioning.
Q: Complete this phrase. I love my historic house because…

A: It's all its own character and like none other on the block. Matter of fact, I've found none other like it yet in the DC metro area. I can say to anyone that it's the house that looks like an English cottage with the Dancing Bear out front.