House History Workshop November 5
House History Workshop November 5
Four organizations focused on history in Arlington, including Preservation Arlington, are jointly hosting a House History Workshop on November 5. The workshop is designed to help Arlington residents research the history of their homes.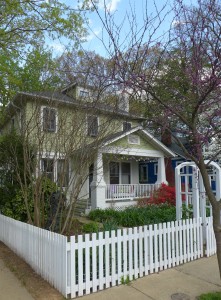 Attendees will:
Learn how to research the history of their own home or any historic property in Arlington.
Use the maps, building permit data, photo archives, and other materials available at the Arlington County Library's Center for Local History (CLH) and the Arlington County Historic Preservation Office.
Be guided through the available resources, no matter their skill level.
The workshop will consist of two parts, starting with an introduction to available resources that will be illuminated through two case studies. The second will be a hands-on exploration of historical records in the Center for Local History.
The workshop will be led by two respected experts: Matthew Gilmore, a longtime student of local history and presenter of many such workshops on homes in Washington, and Cynthia Liccese-Torres, Coordinator of Arlington's Historic Preservation Office, who oversees the county's preservation activities and has researched dozens of historic Arlington properties.
This inaugural workshop will be held on Wednesday, November 5, 2014, at the Arlington Central Library, 2nd Floor Multi-Purpose Room, 1015 N Quincy Street, Arlington, VA, from 6:30 to 8:45 p.m.
To register for this program, please click here or visit the event website, and press the green Register button. Registration is limited to 25 participants. Depending on the public response, there may be additional workshops in the future. As of October 12, the workshop is already half subscribed so please sign up today if you are interested. UPDATED October 15, the workshop is SOLD OUT. If you are interested in attending, please still sign up and you will be added to the list for the future workshop on this topic.
Arlington's four history organizations, Preservation Arlington, Arlington Historical Society, the Arlington County Historic Preservation Office, and, most importantly, our hosts, the Arlington Public Library's Center for Local History are pleased to team up for this effort.