For Sale: Going Dutch…
Colonial, That Is
For Sale: Going Dutch…
Colonial, That Is
The Dutch Colonial house style is a subset of Colonial Revival architecture that is distinguished by its barn-like gambrel roof and deep eaves. The earliest Dutch Colonial houses were commonly found in the Northeastern colonies that saw heavy Dutch settlement and trading — such as New York, New Jersey, Connecticut, and beyond.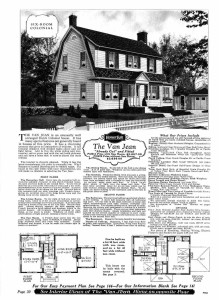 By the turn of the 20th century, the Dutch Colonial style experienced a renaissance, along with other types of traditional architecture, in suburbs up and down the East Coast. The Sears company even included Dutch Colonial plans in its famous house catalogs, including a six-room model known as the "Van Jean."
As a thriving suburb, Arlington also included Dutch Colonials in its mosaic of traditional revival architecture in the early 20th century. Now, one of these early examples is for sale. Built in 1938, this three-bedroom, two-bath house is located in Addison Heights (also known as Aurora Highlands), a highly sought-after neighborhood near the Pentagon City Metro.
Interior archways, crown molding, divided-light windows, and hardwood flooring contribute to the house's historic charm. Updated amenities, a nice front porch, and a garage (with a matching gambrel roof) round out the property.
Located at 1125 S. 20th Street, the house is listed at $729,900. Click here for more information.

On occasion, Preservation Arlington will highlight unique historic houses that are on the market in Arlington County. We hope to raise awareness of some of the true housing gems we have here. Some might be in great condition and just need to be maintained by their next owner, while others may need a steward with heart and passion to restore and stabilize the property. These are not commercial listings or endorsements by Preservation Arlington.