For Sale: A Classic in Maywood
For Sale: A Classic in Maywood
Arlington has only one local historic district that is primarily single family homes — the Maywood community. Nestled just north of Lee Highway in Cherrydale, Maywood is one of Arlington's older residential neighborhoods districts. It contains a wide variety of architectural styles and homes, many of which have inviting front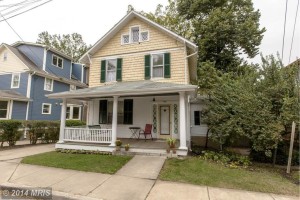 porches and gable roofs. Homes representing the Queen Anne, Colonial Revival, Tudor Revival and Craftsman styles are located in the community.
Maywood was platted between 1909 and 1913 with the oldest buildings dating to the 1900s and 1910s. It is the only single-family community protected by an overlay district. Owners looking to make any number of changes to their homes need to go through a design review and certification process. Since adoption of the Local Historic District for Maywood, there have been numerous substantial renovations and additions done to homes and almost no tear-downs. Preservation Arlington celebrates this effort to preserve our community and its housing stock.
3316 21st Avenue is now on the market and is a great representation of the housing style and stock in Maywood. Built in 1905, this home retains its older features but has also been updated and maintained for today's living. The high ceilings, pine floors, natural light and great front porch are all part of the charm. This 4 bedroom, 1 1/2 bath home is listed for $799,000, click here for more info.

On occasion, Preservation Arlington will highlight unique historic houses that are on the market in Arlington County. We hope to raise awareness of some of the true housing gems we have here. Some might be in great condition and just need to be maintained by their next owner, while others may need a steward with heart and passion to restore and stabilize the property. These are not commercial listings or endorsements by Preservation Arlington.