I Love My Historic House: Edwin in Old Glebe
I Love My Historic House: Edwin in Old Glebe
In this new series, homeowners answer five short questions about living in an older or historic Arlington home. Our second entry in this series comes from Edwin Fountain, a longtime Arlington resident and preservation advocate. He talks to Preservation Arlington about his strong family ties to the house and how he's updating it for 21st century communications.
Q: Briefly describe your house. What style is it, what year was it built, and what neighborhood is it in?
A: My house was built in 1939 in the Old Glebe neighborhood, up the hill from Gulf Branch. Although it is only a few hundred yards from Chain Bridge, the name of the development was "Rural Retreat Park." It is a brick house with a slate roof, in a style reminiscent of Frank Lloyd Wright: asymmetrical, built into the side of a hill (that rare house with an upstairs garage), with multiple levels, living areas that flow into each other, and lots of built-ins and hidden cupboards.
Q: What attracted you to this house?
A: Beyond enjoying the distinctive and quiet, cloistered feel of the house, in my case it was a family connection. My grandparents were the original owners, and I bought it after they died. I spent a lot of time there when I was growing up in Arlington, and I lived there two summers during college. So the house has never been outside the family, and my daughter represents the fourth generation that has lived there. Beyond that, although close to the city, it is quiet and secluded as it is on a cul-de-sac on a steep hill and backs on to the nature center. And it's in what I call an "old-growth suburb," in that the houses around it are all distinctive with many mature trees and bushes, providing shade in the summer and interesting shadows in the winter.
Q: Are there any challenges to owning and living in an older house?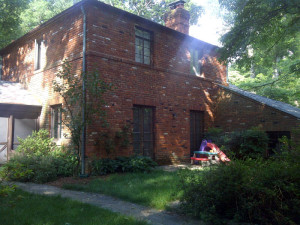 A: The biggest challenge is adapting it to 21st century technology! Wiring it for anything other than mid-century copper phone lines is difficult and unwieldy. I myself can live without a dishwasher, but the next owner will probably want one. Likewise, the amount of closet and bathroom space provided in an old three-bedroom house is just right for my daughter and me, but a larger family would need more.
Q: Has the house undergone any changes since it was built? Have you done any updates or renovations?

A: I've gradually been replacing all the appliances. I recently had the slate roof completely replaced (after 75 years), and am about to have the steel-frame windows refurbished (and will replace four windows in the original steel-frame style). Other than that, I will reconfigure and re-do the kitchen and bathrooms, and convert the garage into living space.
Q: Complete this phrase. I love my historic house because…
A: It is distinctive, is part of "old" Arlington, has a family legacy and suits my personality.