For Sale: Alcova Heights Charm
For Sale: Alcova Heights Charm
What's in a name? In Alcova Heights, the answer to that question is "a lot of local history." The neighborhood's name stands for Alexandria County, Virginia (AL – CO – VA), which was the original name of the county until 1920. Today, one of the neighborhood's many older but well-maintained homes is on the market.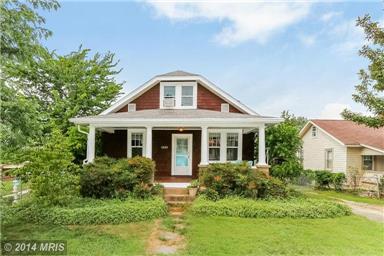 Alcova Heights was first developed in 1921 by former Virginia State Senator J. Cloyd Byars, who bought 142 acres from the Columbia Land Company and sold the lots for five cents a square foot, according to the citizens association web site. Byars' own home, which he also called Alcova, was originally built in the 1830s (with later additions) and is now an Arlington County local historic district.
This 1925 bungalow dates to the Byars era and is located just around the corner from that distinctive local landmark.
With three bedrooms and two full baths, a fireplace, high ceilings, stained woodwork, and many other details, the house has considerable charm and character and is not far from Alcova Heights Park and other amenities. Listed at $549,713, the house is located at 3619 7th Street South. Click here for the listing.
On occasion, Preservation Arlington will highlight unique historic houses that are on the market in Arlington County. We hope to raise awareness of some of the true housing gems we have here. Some might be in great condition and just need to be maintained by their next owner, while others may need a steward with heart and passion to restore and stabilize the property. These are not commercial listings or endorsements by Preservation Arlington.