The State of Preservation in Arlington: A Recap
The State of Preservation in Arlington: A Recap
"What we have matters…the trends and patterns that shaped Arlington matter." So said Cynthia Liccese-Torres, the county's historic preservation coordinator, at Preservation Arlington's first-ever panel discussion on the State of Preservation in Arlington County.
Held on Tuesday, May 13, in the elegant Fillmore Room of the Boulevard Woodgrill on Wilson Boulevard, the panel drew nearly 45 attendees. In addition to Liccese-Torres, the panel consisted of John Richardson, president of the Arlington Historical Society; Joan Lawrence, chair of the Historical Affairs and Landmark Review Board (HALRB); and Nancy Iacomini, currently a member of the County Planning Commission.

The meeting opened with welcoming remarks by Preservation Arlington Board Member Eric Dobson. Dobson talked mostly about our web site and the various series of articles that are being run and how they are generating hit and visits to the web site. He then turned it over to fellow board member Kathryn Smith, who introduced the remainder of Preservation Arlington's board of directors for 2014-15: Allison Dixon, Leslie Louden, Molly McDonald, Kim O'Connell, and John Zemlam.
Complementary Roles
Louden served as the moderator for the panel and began by asking each panelist to describe their respective organizations. Iacomini explained that the Planning Commission is a citizen advisory board that advises the County Board on development and use of land, facilities, and zoning. Liccese-Torres mentioned that her program has four staff members and deals with numerous other organizations and departments within Arlington County. She mentioned the County's 34 local historic districts and encouraged attendees to learn about local history and share that history.
Lawrence discussed HALRB's role in helping to determine appropriate changes and developments in and near historic districts and in approving the many historical markers around the county, including the recent markers added to Fort Ethan Allen.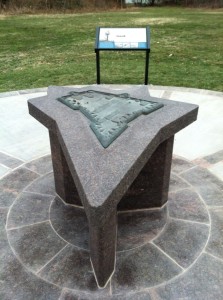 She mentioned that design review guidelines are not onerous. "No one cares what color you paint your house," she said, adding, "We want to educate people about the value of historic preservation through our work."
Richardson pointed out the "very sound division of labor" between the work of the Historical Society–collecting stories and displaying artifacts–and that of Preservation Arlington, which is more advocacy-oriented. At the same time, Richardson pointed out that Arlington has the only historical society in the greater D.C. metro area that actually owns and maintains two historic properties–the Hume School and the Ball-Sellers House.
Challenges to Preservation
The biggest challenge to historic preservation in Arlington County, said Iacomini, is that too many people do not understand the contributions that the past gives to the present and the county's sense of place. Preserving this sense of place can be accomplished by maintaining the scale, materials, and design of new and renovated structures so that they fit the context of historic and existing buildings.
Liccese-Torres encourages developers, property owners, and others to bring more creativity to the table to save historic structures and facades while fostering new development. Both she and Lawrence said that a balance must be struck between preservation and other county goals such as affordable housing, public art, and new development–and that it can be done with creativity and education.
"Education needs to infuse the key sectors of decision makers in the county–both the government and the real estate and development community," Richardson said.
Forming Partnerships and Getting Involved
Liccese-Torres encouraged residents to learn not just the county's "collective history," but also their neighborhood history, down to the house. "Questions to ask include, 'Who designed my house? Who was the first person to live in my house?'" she said. She added that her department is more than happy to help people who are learning how to research that information within county records.
She added that the county has more than 60 civic associations to help residents get involved in preserving their neighborhood's defining features. The panel pointed out that almost every neighborhood in the county has a Neighborhood Conservation Plan that reflects what residents want and care about.
Iacomini also urged attendees to get involved in the public process, whether through attending County Board meetings or just "shooting them an email" on an important and timely topic.
Preservation Successes
When asked to name their favorite preservation success stories, the panelists pointed to significant historic buildings and also dynamic developments that blend old and new. Iacomini, for instance, praised the facade preservation that has occurred in Clarendon that allows the neighborhood's historic storefronts and buildings to remain while taller, newer development goes up behind them.
Lawrence mentioned the "transfer of development rights" (TDR) process that allows developers to transfer development rights from a historic low-rise building (such as the one that houses the Boulevard Woodgrill) to another area where they can use greater height and density. Richardson named the Historical Society's two historic buildings–Hume School and the Ball-Sellers House.
Liccese-Torres mentioned two others that were recently designated as local historic districts–the Calloway Cemetery on Lee Highway, which contains the graves of Civil War soldiers and slaves through 20th-century burials–and the Green Valley Pharmacy in Nauck, which has continuously served the community since 1952.
Looking Ahead
As the discussion wrapped up, the panelists again urged residents to learn more about the community, get involved, and help to build partnerships across groups that share common goals. Audience members also expressed concerns about preserving Arlington's mature tree canopy, and one attendee suggested that Arlington County begin a Continuing Education program about historic preservation for realtors, developers, and other interested parties.
Preservation Arlington thanks all four panelists for participating in this terrific discussion, all the audience members for coming, and the Boulevard Woodgrill for the lovely room and refreshments.