Arlington's New Historic Preservation Coordinator:
A Q & A with
Cynthia Liccese-Torres
Arlington's New Historic Preservation Coordinator:
A Q & A with
Cynthia Liccese-Torres
In September, Cynthia Liccese-Torres, a longtime preservation planner for Arlington County, was named the Coordinator of Arlington's Historic Preservation Program. In her tenure with Arlington, Cynthia has spearheaded many key projects, including the designation of local historic districts and listings in the National Register of Historic Places, the creation and placement of new historic markers, and the recognition of important but lesser-known local history, such as the recent designations of the Calloway Cemetery and Green Valley Pharmacy as local historic districts.
One of her most significant efforts was the preservation of a rare all-steel Lustron home from Arlington, which was included in an acclaimed exhibit at the Museum of Modern Art in New York and is now the centerpiece of a long-term exhibit at the Ohio Historical Society in Columbus.
Liccese-Torres has a bachelor's degree in historic preservation from the University of Mary Washington and a master's degree in historic preservation from Goucher College. She talked with Preservation Arlington recently about her preservation goals for the county, her biggest challenges, her idea for the Deep Throat garage, and her favorite historic site in Arlington. 
Q: After more than 12 years working as a planner in the Arlington County Preservation Program, how does it feel to be named its new program coordinator?
A: It feels exciting! This year has been marked by a lot of transitions in both our division [Neighborhood Services] and in the Historic Preservation Program.  With these changes we now have new opportunities to think about and do things differently. I also am looking forward to new collaborations and building on many of our past successes.
Q: What is your vision for historic preservation in the County? What are your top priorities?
A: Compared to two decades ago, we have so much more information and data now about our historic places. We need to be better about sharing that data and sharing stories to make our history more tangible and relevant. I also feel strongly about building partnerships with groups like Preservation Arlington and the Arlington Historical Society.
Our top priorities are to become fully staffed again*,  to deal with the backlog of designations for local historic districts and historic markers, to update Phase 1 of the Historic Resources Inventory, and to better educate the public about our work. [* Applications for Liccese-Torres' previous position were being reviewed at press time — the advertisement for the position closed on 10/3.]
For example, we're now working on creating a digital community archive for Nauck [the historically African-American community near Shirlington], stemming from the designation of the Green Valley Pharmacy and the increased awareness about and pride in that neighborhood's history. We're hoping to create an online site for sharing photos of people and buildings and places, as well as personal stories.
And on December 14, we're having a ribbon-cutting ceremony for an exciting new interpretive project at Fort Ethan Allen, which will include a bronze model of the fort and nine historic markers. This will be an all-day event with reenactors and refreshments, too. (EDITOR'S NOTE: This event has now been moved to March 2014. We'll send out updated information as soon as it becomes available.)
Q: What is the status of Arlington County's Historic Resources Inventory (HRI), begun in 2011, and what happens next?
A: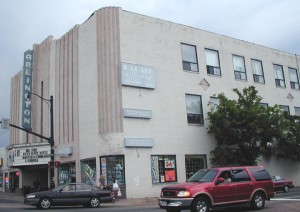 We've only done Phase 1 of the HRI, which covers historic garden apartments, commercial buildings, and shopping centers. We're still working on implementing that survey and making that information as relevant and useful as possible. We now have a list of about 400 buildings ranked into categories by their significance, with goals and priorities attached to them based on their identified historic importance.
Ideally we can plan for additional phases once we are fully staffed, but we need to be able to manage what we have done so far before tackling more. [Cynthia will be presenting on Arlington's HRI at the National Trust 2013 National Preservation Conference in Indianapolis  on November 1st.]
Q: How do you prioritize preservation projects in the face of ongoing financial challenges in the County? 
A:  The HRI really has helped us prioritize and focus our preservation efforts, at least for certain types of historic buildings. We're also continuing to make sure that our preservation staff and the Historical Affairs and Landmark Review Board (HALRB) have a seat at the table when development proposals are discussed. We need to continue to have a voice. When something comes up, we need to respond to it in a timely manner and remain part of the community process.
Q: What role do you see for Preservation Arlington, as an advocacy group and as a partner for the County?
A: We've had a very positive and interactive relationship with the former Arlington Heritage Alliance, now Preservation Arlington [such as the effort to preserve the Lustron], and we'd like to continue that. It would be nice to do another project together again. It's important that you continue to have a voice in preservation matters, whether through your blog, or writing letters, or coming to meetings–and do it consistently.

Q: In your view, how does historic preservation factor into the ongoing development or redevelopment of high-profile corridors such as Wilson Boulevard and Columbia Pike?
A: We have come light years in the past two decades, with development decisions being made and buildings coming down without our involvement. Now, more often than not, we have a seat at the planning table and can help make or inform decisions related to historic properties. Preservation isn't always the only way, but it can often be done in whole or in part with vision and creativity. By blending old and new, we can help keep Arlington Arlington. We have some really great examples of this in Clarendon and along the Pike – and we should do more!
Q: You were named as the new program coordinator the same week that news broke that the Deep Throat garage in Rosslyn was going to be potentially demolished and redeveloped. How can that history be preserved, in your view?
A: We could do a nighttime walking tour of Rosslyn with flashlights! The historical marker there only tells part of the story–we also need to keep that history relevant even if the building is gone. This is a rare case where it's both local and national history. It's still fairly early in the site plan process; it will be interesting to see how this project evolves and what the community will say.
Q: One of your long-term projects over the years was the preservation of the all-steel, post-World War II Lustron home from Arlington that previously was exhibited in the Museum of Modern Art and is now the centerpiece of an Ohio Historical Society exhibit. How do you feel about the Lustron's journey to Ohio, and what can be done to preserve the Lustrons we have left here in Arlington?
A:
I miss my baby and want to go visit it! It's bittersweet, but it's also reassuring because the house is in very good hands. The house is an educational showcase now, and the OHS has presented it in a creative, interactive way, where people can walk through the house, sit on period furniture, peek in closets and drawers, and get a true glimpse of family life in the 1950s. We only have four Lustrons left here in Arlington out of the original 11, and I think it would be important to preserve one of them as a local historic district so we don't lose that part of our County's architectural story.
Q: What do you think is the most at-risk site in Arlington — public and private? And what is your favorite historic site in Arlington County and why?
A: Generally speaking, there are several public buildings that some might think are beyond their normal useful life span. With vision and creativity, these buildings can be given a new purpose. In terms of private sites, our historic single-family neighborhoods are at risk. Demolitions or insensitive additions are happening every day. We need to be continuously educating residents and their design teams on how to build more sensitively. We are challenged by how to preserve Arlington's character–the styles, the scales, the materials, and the details, or we're going to lose the most important aspects of these neighborhoods and some of the very things that drew people to live there in the first place.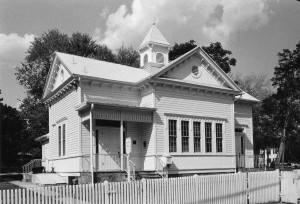 My favorite historic site in Arlington would be Carlin Hall in Glencarlyn. It's one of the oldest community buildings we have, and it's had so many different uses. It shows how buildings can be adapted to serve different purposes. The county recently completed a structural renovation, so the building will be here for decades to come. On a personal note, both of my children went to the County preschool program at Carlin Hall, so my family is part of the history of this building. For my kids, it's tangible history.