Preserved & Developed:
A Ballston Infill Townhouse
Preserved & Developed:
A Ballston Infill Townhouse
Preserved & Developed is a weekly series of articles by Preservation Arlington highlighting local development projects that have involved both development of a site and preservation of historic resources. The projects highlight a wide range of challenges and solutions over many years. At the time they were completed the projects represented a commitment by the developer and the community to embrace the future and preserve the past. Preservation Arlington is awarding each project a gold, silver, or bronze star based on the extent to which the project protected historic resources within its particular constraints.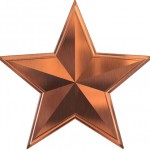 Thirty years ago, between the opening of Metro's Orange Line in December 1979 and the adoption of the Ballston Sector Plan in May 1980, the Ballston area was poised for growth. Substantial speculative land purchases had been made and several land assemblages were already complete — in both the commercial core but also in the "transitional area" that tapered down from the higher-density development near the Metro station to the single-family neighborhoods on the north side of Washington Boulevard.
According to Arlington County data, from 1960 to 2005, more than 6,400 residential units were built in Ballston, with almost half of those built in the 1980s. The area between 11th Street North and Washington Boulevard quickly transformed from single-family older homes (some on large lots) to townhouses.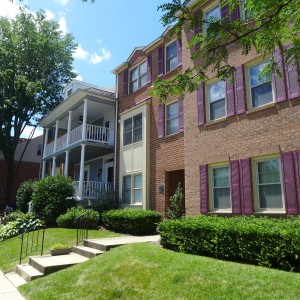 One of those blocks — bounded by Washington Boulevard, Vermont Street, Vernon Street, and 11th Street North — developed close to 90 townhouses in just a matter of years, from 1983 to 1987. At one County Board meeting, the majority of this block, encompassing more than 70 townhouses, were approved in three different projects.
Vernon Square, originally approved in January 1983 to include 32 townhouses, was modified in July 1984 to include an out parcel, adding two units to the project. These two units included the retention of the house at 1128 Vermont (now 1184 Vermont), which was originally slated for demolition along with another so-called "derelict" property. This structure is a traditional four-square (with a two-story porch) that was fairly typical of the style of homes in the Ballston area.
When 1128 was added to the project, the developer agreed that the last remaining townhouse unit would be designed to match the other 32 townhouses that had already been approved, meaning it would have a brick exterior that would distinguish it from the newly preserved four-square. In an area that places a heavy emphasis on brick, colonial-style townhouse architecture, the retention of this early 1900s style four-square, with its large and airy porches, offers visual contrast and interest. Although the house was extensively reconstructed, it does retain the style and feel of the original.
This is a worthwhile solution where the developer of an infill townhouse project could easily have demolished this older home but instead incorporated it into the new project.

Updated: This project was developed by J.L. Albrittain, Inc.