FOR SALE: Birch Log Cabin (again)
FOR SALE: Birch Log Cabin (again)
Sold just last July, the owner of this almost 200 year old house has decided to sell it. Click here to see the listing.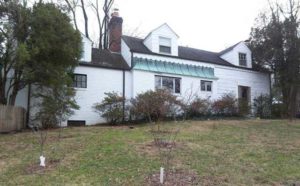 We featured this property last July in one of our posts, click here.
Last year the Washington Post featured the property in their Saturday real estate section. And had done additional research on the home. It is behind the WashPost paywall at click here.
Maybe, unlike the realtor suggests, the next owner will want to care for it for the next few years — at least until it is 200!