For Sale: 182 Years Young
For Sale: 182 Years Young
There are only a few log cabin homes in Arlington. And one of them is for sale, for the first time in over 40 years. The history of this property is very interesting and it is posisble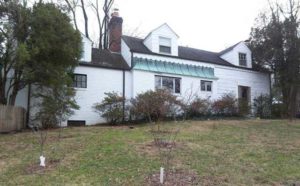 we don't really know everything about the house.
The Historical Marker outside the house details some of the history of the property, including visits from President Theodore Roosevelt:
Caleb Birch, a farmer and constable, built a log house here around 1800 on land granted to his grandfather, James Robertson, by Lord Fairfax in 1724. The original house burned and was rebuilt about 1836. A second log cabin was added ten years later. The two cabins, although separate, had a common roof, forming what was known as a "dog trot' house. Later. President Theodore Roosevelt rode horseback in this area with his friend and White House physician, Rear Admiral Presley M. Rixey, on whose estate Birchwood stood. Rixey's valet, Richard Wallace, lived at Birchwood, and Roosevelt visited Wallace here. In 1936, Birchwood was reconstructed using the original logs.
While the property does have a historical marker out front it does not have any historic designations, covenants or other protections.
4576 26th Street North is listed fo r $715,000 and is described by the realtor as "…a very unique log cabin home. It has loads of rustic charm and character. It has central heat & A/C, large eat-in kitchen, dining room, living room, lower level rec room with a wine cellar. The screened back porch is large and private for enjoying the evening. To see listing, which does not include any additional pictures at this time, click here for more info.
On occasion, Preservation Arlington will highlight unique historic houses that are on the market in Arlington County. We hope to raise awareness of some of the true housing gems we have here. Some might be in great condition and just need to be maintained by their next owner, while others may need a steward with heart and passion to restore and stabilize the property. These are not commercial listings or endorsements by Preservation Arlington.