For Sale: Two Arlington Farmhouses
For Sale: Two Arlington Farmhouses
Two 100+ year old Arlington farmhouses hit the market this past week. Both need some TLC. Each has some challenges — one is on a large lot but not clear that it can be subdivided and the other straddles the border with Arlington. Neither are in National Register of Historic Places neighborhoods.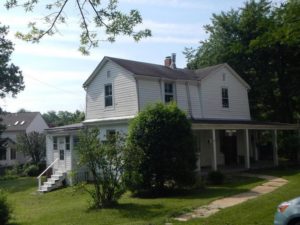 5420 11th Street North was once a much larger parcel with portions having been subdivide off as early as the 1930s. Now sitting on a 14,000 sf lot it could be at risk and is being marketed as "Value in the Land". On a quiet street near everything it could make a great property for someone. Listed by Residential Properties, this 1900 home is for sale for $1.2 m. Click here for more info.
6817 31ST Street North is on the western edge of the County and shows signs of a once great home that needs some updating to bring it back to a wonderful 1902 gem. With an Arlington address, and only 2800 sf of land in Arlington, with an additional 10,000 sf in Fairfax, it may post a challenge for building a new home. Just listed this week, and there was an Open House, the property is being marketed at $849,000. Check out the listing for all the details.
On occasion, Preservation Arlington will highlight unique historic houses that are on the market in Arlington County. We hope to raise awareness of some of the true housing gems we have here. Some might be in great condition and just need to be maintained by their next owner, while others may need a steward with heart and passion to restore and stabilize the property. These are not commercial listings or endorsements by Preservation Arlington.