Upcoming Hearing: County Board, Nov. 5 RTA Ball Cemetery Historic Designation
Upcoming Hearing: County Board, Nov. 5 RTA Ball Cemetery Historic Designation
This Saturday, November 5, the Arlington County Board will consider a request to advertise (RTA) public hearings at the Planning Commission and the County Board for the proposed Local Historic District Designation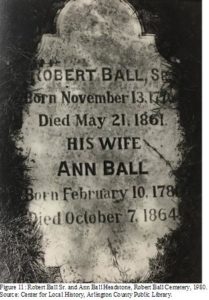 of the Robert Ball Sr. Burial Ground, at 4201 Fairfax Drive in Ballston. On October 19, the Historical Affairs and Landmark Review Board recommended that the County Board hold public hearings to designate the local historic district. This RTA is the next step in that process.
This is the first non-consent item (Item 38) on the County Board Agenda (click for agenda) and the board will be taking testimony on whether or not to adopt this resolution to advertise public hearings for a local historic district for the Ball Cemetery in Ballston. If this resolution is adopted the Planning Commission will hold a public hearing on this local historic district designation on December 1 and the County Board on December 10. The County Manager recommendation is to adopt this resolution and hold these public hearings to consider this designation. Click here for the in-depth staff report.
Citizens and others interested in the cemetery and the local historic district designation are encouraged to attend and speak during the public hearing process. For more on speaking at a County Board hearing, click here.
If you are unable to attend, you can email the County Board at countyboard@arlingtonva.us and include Ball Family Burial Ground in the subject.
[Updated/Clarification: The County must hold a public hearing to consider a "request to advertise" their intention to consider adopting a local historic district ordinance. Once advertised, The County will then hold a second set of hearings to actually take the designation under consideration.]
The County Board meeting will be held:
November 5
County Board Hearing Room
2100 Clarendon Boulevard
Room 307
8:30 AM Meeting Starts
No earlier than 9:00 A.M. Consent Agenda and Regular Hearing