For Sale: Place in Cherrydale's History
For Sale: Place in Cherrydale's History
Own a piece of Cherrydale history. This gorgeous Queen Anne style home has original windows, a two-story wrapped around porch, which itself is wrapped with 100-year old wisteria,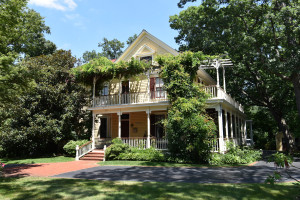 original hardwoods plus a 1990's addition, all sitting on a hill backing up on to Arlington's Cherry Valley Park. And a location with a WalkScore of 90 it is a "Walkers' Paradise".
The Schutt family owned most of the land that is now Cherrydale. The family purchased this particular property in 1865. This home, built in 1900, replaced one which had been destroyed by fire. The Schutt family is synonymous with the history of Cherrydale, as some of the first development occurred on their properties along Lee Highway and Quincy Street in the late 1800's. And, according to the Center for Local Research, "the first residential subdivision in Cherrydale included 12 lots known as Schutt's Subdivision, along the north side North 20th Street." The Schutt family owned this property up until 1975 — over 110 years in the family — and the next owner will be the fifth caretaker of this beautiful home that everyone loves. The home is located in the Cherrydale National Register Historic District making it eligible for historic preservation tax credits.
The home has six bedrooms, four baths, two-car garage and just over 3,000 sf of finished living space on a spacious lot backing up to acres of parkland. The home is listed by Long and Foster for $1,289,500. A true piece of Arlington history that has been well maintained and upgraded in the heart of Cherrydale makes this a very special listing. Check out the realtors OakGroveBrochure or view online listing.
On occasion, Preservation Arlington will highlight unique historic houses that are on the market in Arlington County. We hope to raise awareness of some of the true housing gems we have here. Some might be in great condition and just need to be maintained by their next owner, while others may need a steward with heart and passion to restore and stabilize the property. These are not commercial listings or endorsements by Preservation Arlington.
Thanks to Kathryn Holt Springston, Cherrydale Historian, for her help on the history of the property. Her Cherrydale history book will be reprinted this Fall, watch here for more info.