Arlington Bookshelf:The Village and the Pike
Arlington Bookshelf:The Village and the Pike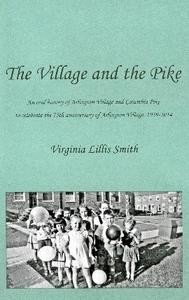 In 2014, Arlington Village, one of Arlington's early garden apartment projects, celebrated its 75th anniversary (1939-2014). As part of the commemoration of that milestone, long-time Arlingtonian Virginia Lillis Smith compiled a collection of stories and photographs about the neighborhood from friends and family. Lillis Smith grew up in Arlington Village and her deep ties allowed her access to uncover several rare and never-before-seen treasures.
The Village and the Pike is an oral history of Arlington Village, a garden apartment complex built in 1939 in response to the housing shortage for the families coming to nearby Washington, DC for the build up to WW II. Gustav Ring purchased 53 acres along Columbia Pike from B.M. Smith. Ring and architect Harvey Warwick designed and built a planned community on 53 acres in a park like setting, complete with playgrounds, and a creek running through it. There was a commercial strip along Columbia Pike. The village was well poised to watch Arlington grow and flourish.
The Village and the Pike tells the story of the first generation of residents who lived there through the war years, and the 40s and 50s. It includes 48 black and white pictures from private collections showing daily life within a strong community. Virginia Lillis Smith has interviewed business leaders of that era and many children who grew up in the Village, as she did. It includes stories of kids playing as cowboys, roller skating, spending time in the creek, acorn battles, the ritual of going every Saturday to the Arlington Theatre, first jobs, Skeeter Reams School of Dance and its cotillion. It was a great time to be a kid, a much different childhood than children have today.
The design and cost effectiveness of Arlington Village prompted the Federal Housing Administration to promote similar developments throughout the nation.
The book is nostalgic, historic, sweet, humorous and well written. It will transport the reader to this great era, post war America.
Last fall, the Arlington Sun Gazette newspaper did a one-on-one interview with the author that provides a glimpse into the book.
The book is available online for $10 plus s/h. The book is also available at the Center for Local History at Arlington's Central Library but for "in-library use" only.