I Love My Historic Neighborhood: Kim in Aurora Highlands
I Love My Historic Neighborhood: Kim in Aurora Highlands
We have expanded our "I Love My Historic House" series to invite homeowners to answer five short questions about living in a historic Arlington neighborhood. Our first entry in this new, related series comes from Kim O'Connell, who has lived in the Aurora Highlands neighborhood for 15 years.
The neighborhood was recently featured in The Washington Post and is included in the National Register of Historic Places as a historic district.
Q: Briefly describe your house.
My family and I live in a circa-1942 Cape Cod in Aurora Highlands, which we have not (yet) added on to or substantially renovated. The interior was updated with new appliances, windows, and cabinetry when we purchased it in 2011. The house was built along with several other similar ones to support the influx of federal workers during the construction of the Pentagon. It's a cute, modest house, and I like that it is considered a "contributing property" to the Aurora Highlands National Register Historic District.
We have actually lived in the neighborhood since 2000. We spent the first 11 years in a circa-1939 brick duplex that was actually outside the boundaries of the National Register district. It's funny that, even though we stayed in the neighborhood and moved to a slightly newer (or, rather, less-old) house, we are now inside the historic district boundaries.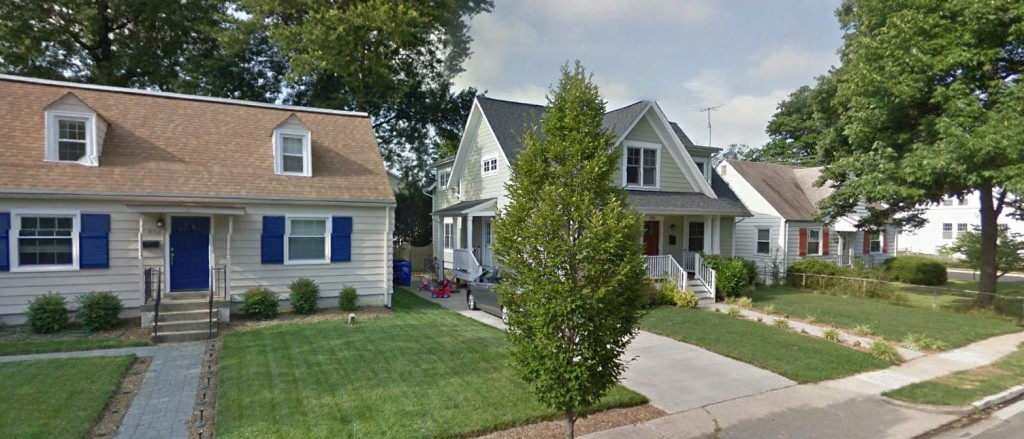 Q: What do you like most about your historic neighborhood?
So many things. Despite our proximity to the city, this neighborhood feels like a quiet little enclave unto its own, with an eclectic mix of houses and people. I feel like I can't go half a block without meeting a friendly and familiar face. (My husband was happy when he ran into Washington National Bryce Harper in the grocery store too.)
I love that it's a very walkable neighborhood. We live only steps away from Virginia Highlands Park, the library (where Tony the librarian greets you by name), Pentagon Row and Pentagon City mall, the grocery store, and the Metro. Because of this, our family has only one car, which is better for both our environment and our bank account. Our neighborhood elementary school and my daughter's preschool are both excellent. As a dear friend and neighbor likes to say, I have "cement on my feet," meaning we plan to live here for a long time.
Q: Are there any challenges to owning and living in this neighborhood?
It's not just our neighborhood, but generally the cost of living in Arlington can be daunting, and I know that the same amount we spent on our little house could have bought us twice the square-footage in a farther-out suburb. But that's the price we pay to live in such a close-in and convenient location. Another challenge is that our neighborhood elementary school is poised to have the highest population of any elementary school in Arlington County.

Q: Has the neighborhood undergone any changes for the better since you moved in? How about changes that you are not happy about?
One change for the better is the Virginia Highlands Sprayground! Since we don't have an outdoor community pool in south Arlington, this gives my kids a great place to cool off in the summer. I also think the ongoing transformation of Crystal City is fantastic.
I also love the recent renovation at the Pentagon Row courtyard, which made the skating rink and gathering spaces even bigger.
Changes that worry me are all the tear-downs. Many older houses are leveled without being reused or adapted, which is just such a waste to me. And I worry about all the high-rise development…where are all those kids going to go to school? Still, all of that speaks to the charm of this neighborhood; people want to live here and raise their families here.
Q: Complete this phrase. I love my historic neighborhood because…
It's charming and walkable, with tons of character, and I am lucky to have many friends who are neighbors and neighbors who are friends.
***
Is your house over 50 years old? Have you done an interesting renovation or update to it? Does your neighborhood have historic charm or other amenities you would like to share? Let us know if you'd like to participate in this series!