Upcoming Hearing: Key Boulevard Apartments
Upcoming Hearing: Key Boulevard Apartments
On Saturday, November 15 the Arlington County Board will consider an amendment to site plan #181 to demolish the 41-unit Key Boulevard Apartments and redevelop the site with a 158-unit multi-family building. The Planning Commission recommends deferral.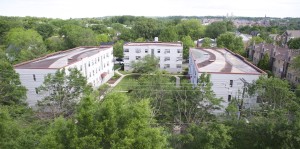 The Housing Commission recommends denial. The County Manager had recommended denial but changed that recommendation on November 13 to deferral for up to one year (November 2015).
Preservation Arlington covered this developing site plan proposal in a web post on February 19. Our views have not changed since that time, as the proposal has not. Key Boulevard
Apartments was at the top of our 2014 Most Endangered Historic Places list.
Built in 1943, Key Boulevard Apartments are a nearly perfect and intact garden apartment complex. The Key Boulevard Apartments are part of an existing site plan (#181), approved in 1981, involving the Atrium Condominium on the south side of Key Boulevard. In that site plan, unused density from the Key Boulevard apartments was moved and built into the luxury condominium, The Atrium. Under this proposal, unused density from a historic garden apartment in Ballston would be transferred to this site, allowing for the new building to be built. Put another way: One garden apartment complex density would be used to destroy another garden apartment complex. The Historic Resources Inventory (HRI), which was adopted by the County Board in October 2011, lists the Key Boulevard Apartments in the top third of buildings and includes them in the "Important" category. One of the goals of the HRI is to "Promote the Preservation of the Important Historic Buildings."
This is item #26 on the County Board Agenda for Saturday (Items 1-24 are on consent).
Documents of interest: Housing Commission report; Planning Commission report; Initial County Manager report for denial with detailed discussion; and, November 13 Revised Supplemental County Manager report for deferral up to one year.
To contact the County Board on this topic (Agenda Item #26), write them at Countyboard@arlingtonva.us.
Preservation Arlington will submit a letter supporting the Housing Commission recommendation for denial.
Hearing time and location:
Arlington County Board
November 15, 8:30 AM
2100 Clarendon Blvd.
Room 307
Arlington, Virginia