Etched in Stone: Urban Archaeology
Etched in Stone: Urban Archaeology
What is urban archaeology? It's the process of discovering the material past of towns and cities. Today, all major construction projects are required to recycle their building materials. For efficiency, this usually involves moving materials offsite to be ground, combined or otherwise destroyed to become the base of a new material. But in the old days, many items were re-used on site. Re-use is a form of recycling, and it's now allowing us an intriguing glimpse into a long-forgotten story in Arlington history.
High on the bluff
overlooking the Iwo Jima Memorial and Washington, D.C., sits the Prospect House condominium building. The 11-story building, with more than 250 units, was completed in 1966 as an apartment building and converted to condominium ownership in 1980. Prospect House has a substantial retaining wall around it — ranging from three to fifteen feet in height. In one tiny corner of that retaining wall, there are three stones that were reused on the site in 1966. These stones will intrigue any urban archaeologist.
After researching the site at Arlington's Center for Local History, it was determined that these stones are what remains from the Congressional Schools of Virginia, a private academy now located in the Falls Church area of Fairfax County.
This was Congressional Schools' third location in Arlington. Having started in Westover, the school first moved to 3155 Pershing Drive and, in 1942, moved to 1401 12th Street North in the Radnor/Fort Myer area of Arlington. They operated on this site until 1960 when their new campus opened in Fairfax.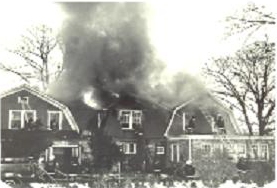 (For more on the school history, visit their website).
On February 16, 1960, after kids had left for the day, a fire started at the school and burned out of control for 75 minutes, trapping several firefighters, according to the Arlington Fire Journal. The building was a total loss.
The building being used for the school at the time had been converted from a
private residence. Most recently it had served as a fraternity house, but before that it was the home of General George Patton. Arlington County permits for the property go back to 1935, but it is unclear when that house was built. Permits from the 1940s are issued in the name of M.B. Dever. The 1940 Census shows a Edgar Colladay (later a General) living at the house with his wife and three servants and General Patton living on Fort Myer. A February 1960 Letter to the Editor in the Washington Post details that this property was owned by the Christian family and called Big C.E. (Christian Endeavor) and that they owned additional property in the neighborhood.
There is a rumor of General Patton having also lived in a different house in Rosslyn and that house, which still exists, has a mural somehow attributed to Patton. The story is out there but so far we haven't been able to find it documented. The work of the urban archaeologist continues.
Photos of fire from
Arlington Fire Journal
.