I Love My Historic House:Eric in Cherrydale
I Love My Historic House:Eric in Cherrydale
In this series, homeowners answer five short questions about living in an older or historic Arlington home. Our latest entry in this series comes from Cherrydale resident Eric Dobson, who saved his 1920s Sears-style Craftsman bungalow house and converted it into a four-square but made a dramatic modern addition on the back. He talks about how not taking the easy way out led to the best possible outcome.
Q: Briefly describe your house.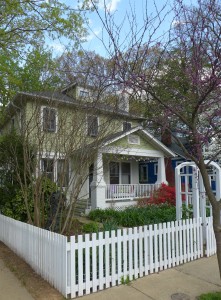 What style is it, what year was it built, and what neighborhood is it in?
My house is in the National Register Historic District of Cherrydale and was built in the mid-1920s by Mr. Kirby as one of six bungalows in a nice row. Our front porches all match up at the same height and design, providing a really great set of homes. My house was the smallest of the set with just over 900 square feet of living space. All six of our homes are very similar to popular designs available from Sears.
Today it is the largest with just over 2400 square feet of living space. From the front and down the sides of the house the design vernacular is craftsman — in the back, not visible from the street, I embraced my inner modernist with all glass and new materials.
Q: What attracted you to this house?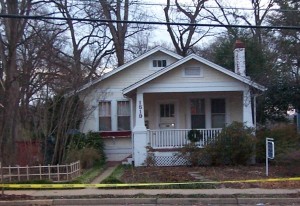 I grew up in this neighborhood and my family lives nearby. I knew the owner was retiring from his job and got a tip that they were putting the house on the market. 1991 was a great time for buyers. I knew the house was solid and in a good neighborhood with great schools.
I'm the sixth or seventh owner of the house. One of the previous owners was featured in a Washington Post article about how she and her husband had the perfect marriage by agreeing on most everything. When she passed away, her obituary mentioned that she had passed away in her sleep at home. I think this is why I often smell coffee brewing and bacon frying — yet no one is in the kitchen. Thanks Nettie.
Q: Are there any challenges to owning and living in an older house?
No challenges at all. Just make sure you have plenty of checks in your checkbook or beer and cigars for friends who come to help out. My house had been well maintained and most of the systems had been upgraded. Biggest problem is that you have to be careful in repairs — going to a store such as Ayer's is much better for finding the right piece or part as they cater to the market. Like many older houses, my house has nothing that would pass as a foundation today, so the addition was designed with extra footings and has helped stabilize the house.
Q: Has the house undergone any changes since it was built? Have you done any updates or renovations?

When I moved in I redid the floors, had the house painted and the woodwork stripped. In 2007 I undertook a major addition. I wanted a master bedroom suite and with the coverage restrictions, the only way to do it was to go up. In order to put in stairs, I had to remove my kitchen and build a new one on the back of the house. The cabinets in the kitchen are made from an American Cherry tree I harvested from a friends yard in Ashton Heights.
I ran the numbers… it would have been cheaper and easier to demolish the house. That seemed so throw-away to me. My house was perfectly fine and had great details — real hardwood floors, southern pine trim, great old radiators — I couldn't see throwing all that away. I'm glad I did it this way — it's perfect, thanks to a great architect and builder.
Q: Complete this phrase. I love my historic house because…
it has character, individuality, history, style and is harmonious with the other homes on my street and, most importantly, it is in Arlington.