I Love My Historic House: Nancy and Dan in Cherrydale
I Love My Historic House: Nancy and Dan in Cherrydale
Preservation Arlington is beginning a new series called "I Love My Historic House," in which homeowners answer five short questions about living in an older or historic Arlington home. Our first entry in this series comes from Nancy Iacomini, a member of the Arlington County Planning Commission and a speaker at our May 13 panel discussion. She tells us about how she and her husband Dan overcame "fear at first sight" and updated their home to make it comfortable for today's lifestyle.
Q: Briefly describe your house. What style is it, what year was it built, and what neighborhood is it in?
A: We live in Cherrydale and our house is a Tudor in overall style. It was built in 1928.
Q: What attracted you to this house?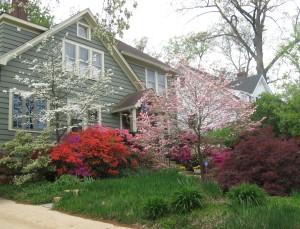 A: Both my husband and I had lived in Arlington for quite a while before purchasing this home. Due to development pressures, we needed to leave our Sears-like bungalow (no longer standing) on North Quincy Street. We were looking for another older home nearby. We looked at several houses then for sale (spring 1997) and none of them seemed just right.
When we first saw this house it was love at first sight for me, and fear at first sight for my husband. The home had been owned by the same couple for over 60 years and needed extensive maintenance. But the house's "bones" were very welcoming and it had all its original trim, a large detached garage, and a big yard.
Q: Are there any challenges to owning and living in an older house?
A: A challenge in almost any older home is dealing with the deferred maintenance that usually comes with it. In our case, the house had extensive termite damage and we ended up gutting it. This allowed for new plumbing and wiring. However, we lost the original plaster walls. We also find that much of what we have, particularly trim, is not standard so cannot easily be bought "new." However, there are many great salvage resources and list-servs for such items.
Q: Has the house undergone any changes since it was built? Have you done any updates or renovations?
A: Our house seemingly had one major renovation/addition in the 1960s. At that time two bedrooms upstairs were combined into one master bedroom, and an addition was added to the back that resulted in a larger kitchen and a bedroom on the second floor. During our renovation we opted not to add any additional floor space, but we did convert a large walk-in closet in the master bedroom into a full bath. In addition, we slightly changed the access to rooms on the main level. We salvaged some windows from our previous bungalow and used them to replace some of the windows which were installed during a 1960s era renovation.
Looking back, we should have been bolder and added more rooms to the house – particularly to anticipate needs for aging in place such as a first-floor master bedroom suite.
Q: Complete this phrase: I love my historic house because…
A: It is a physical link to Arlington's past and I hope will remain in its future. Most of us in Arlington come from somewhere else, as I did. My family and my husband's family have been in Pittsburgh for three generations and knew everyone. Or so it seemed. Being in an older home helps give me a sense of belonging to Arlington and being steward of part of its history.