For Sale: A Country Club Manor
For Sale: A Country Club Manor
In 1894, a group of prominent Washingtonians formed the Washington Golf Club, whose first nine-hole course and clubhouse was located near present-day Colonial Village on Wilson Boulevard. Within a decade, club owners were looking for more land and found the club's present location on North Glebe Road in 1908. By 1915, the club's name had been changed to the Washington Golf and Country Club. Its nickname in those years, however, was "the Club of the Presidents," as Presidents Taft, Coolidge, Harding, and Wilson all were regulars there.
The presence of the country club helped to spur interest and development in that part of north Arlington, resulting in the surrounding subdivisions of Country Club Hills and Country Club Manors. Today, these elegant neighborhoods contain many historic homes in a variety of traditional styles, including colonials, Tudors, bungalows, and ramblers. New construction is rampant, but many owners are also opting to retain their houses' historic charm while adding on and renovating.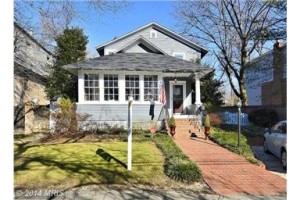 This week, our featured sales listing at 4889 Old Dominion Drive is an expanded Sears bungalow in Country Club Manors that was built in 1913 and retains numerous period details. (Click here for the listing.) According to the listing, this three-bedroom, two-and-a-half bath house includes large rooms, a master suite, updated baths, a two-sided gas fireplace, hardwood floors, and eat-in kitchen. The hardscaped backyard features two seating areas, a fireplace, and a playhouse/studio.
Another historical fact: The house sat right on the train line of the Great Falls and Old Dominion Railroad, the interurban trolley line that ran in Northern Virginia during the early 20th century. The house was located between the Jewell Station and Vanderwerken Station.
On occasion, Preservation Arlington will highlight unique historic houses that are on the market in Arlington County. We hope to raise awareness of some of the true housing gems we have here. Some might be in great condition and just need to be maintained by their next owner, while others may need a steward with heart and passion to restore and stabilize the property. These are not commercial listings or endorsements by Preservation Arlington.