Upcoming Hearing: County Board To Hear Blue Goose
Upcoming Hearing: County Board To Hear Blue Goose
On Saturday, January 25, the Arlington County Board will consider Site Plan #64 – the redevelopment of the Blue Goose, Marymount University – Ballston Campus, at 1000 North Glebe Road.
(Click here for the hearing agenda, staff report and the applicants proposal under agenda item #41 (A & B))
The proposal is to construct approximately 165,203 sf of office space for use as a school of higher instruction, approximately 3,000 sf of retail, and 267 dwelling units.The proposed density is 8.97 floor area ratio office/commercial and 162 units/acre residential. The site plan includes numerous modifications to the zoning ordinance for density, parking, and other technical items.
The proposal involves the complete demolition of the existing Blue Goose building. As a result of negotiations with the developer a number of the building's legendary blue panels will be saved and preserved. Several of these panels will be used in the retail space. Others will be made available for display at several local museums, including the Arlington Historical Society Museum.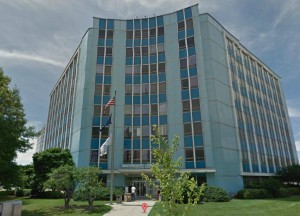 In addition, between the office and residential building will be a plaza with a historical marker containing several panels and commemorating the 50+ years that the Blue Goose stood on this site. Other architectural details such as lighting and design tiles in the outdoor plaza and on the building will pay homage to the Blue Goose.
The Planning Commission has unanimously recommended approval of the site plan. The County Manager is recommending approval with conditions, as noted.
Arlington County Board
January 25, 8:30 AM
2100 Clarendon Blvd.
Room 307
Arlington, Virginia