Preserved & Developed:
The Wilson Theater
Preserved & Developed:
The Wilson Theater
Preserved & Developed is a weekly series of articles by Preservation Arlington highlighting local development projects that have involved both development of a site and preservation of historic resources. The projects highlight a wide range of challenges and solutions over many years. At the time they were completed the projects represented a commitment by the developer and the community to embrace the future and preserve the past. Preservation Arlington is awarding each project a gold, silver, or bronze star based on the extent to which the project protected historic resources within its particular constraints.
Homage to the past is a courtesy that can be extended in a development project when the past either no longer exists or cannot be saved. The Wilson Theater at 1800 Wilson Boulevard was demolished in the early 1980s, and the property had become one of the ubiquitous used-car lots of the Rosslyn-Ballston corridor by the time it was purchased in 2003 — a far cry from its glamorous opening.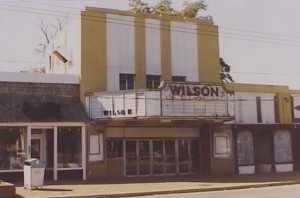 The Wilson Theater opened on November 11, 1936, by showing Fred Astaire and Ginger Rogers in Swing Time, according to Cinema Treasures. At the time, it was directly across the street from the Colonial Village shopping center and the then-new Colonial Village apartment complex. The building's design has been attributed to A.O. Budina, who designed four other theaters in Arlington, but also to Clarke Waggaman and George Ray, who designed numerous commercial buildings and embassies in the Washington, D.C., area. During the 1970s, the theater transitioned from feature films to the kung fu genre and adult-oriented movies before being closed in 1978 and subsequently demolished.
When the site was slated to be redeveloped, the developer, Holladay Corporation, put forth a complex proposal that included a General Land Use Plan Amendment, rezoning, and site plan for a 153-unit residential development with ground-floor retail and live/work units, a new street, and, originally, a significant affordable housing component. It was first approved at the June 14, 2003, County Board meeting. One of the conditions of the approval was that "the building's street level base would contain details reminiscent of the institutional and theater uses that previously existed on the site, including an 'art deco' style canopy at the lobby entrance."
During the site plan/rezoning process, the developer was committed to finding a way to pay homage to the past history of the site. Three specific items were included in the development proposal that related to the history of the site: maintaining the 1800 Wilson Boulevard address, putting a blade sign on the building that was similar to a theater sign, and including theater/Art Deco design elements in the primary entrance to the building.
The details recall the site's past role as a neighborhood theater while also providing unique architectural details.
Historic photograph is courtesy of Cinema Treasures.