Envision CourthouseSurvey on Design and Historic Resources
Envision CourthouseSurvey on Design and Historic Resources
There is something historic in everything — help raise the awareness of the important resources at the Courthouse Metro. A process is under way to study the future of the Courthouse Metro Station area. Everything is on the table —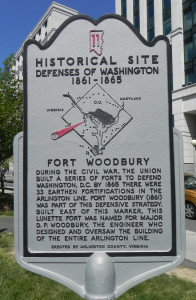 including historic resources such as facade preservation (COSI and other buildings), living historic memorials (The Mothers' Tree), monuments (Veterans Memorial) and better interpretation of Fort Woodbury, one of the many forts that made up the "Arlington Line" and protected Washington, D.C., during the Civil War. Follow this link to learn more about the important historic resources at the Courthouse Metro Station area.
Envision Courthouse Square is a community planning effort to re-imagine the County's civic center and create a great public destination. Check out the project web site.
The goal is to update the vision outlined in the 1993 Courthouse Sector Plan Addendum, which identified a state-of-the-art government center and signature public space as critical to the area's development. The update will create a visionary plan, strategies, policies, development standards and implementation steps. The updated plan is expected to come before the County Board for consideration by the end of 2014.
Big Ideas: Draft Design Concepts Unveiled
Three draft design concepts were unveiled to the community. Each concept is based on the input collected during the first two workshops, Working Group meetings, and extensive site analysis. We need your help to determine the right mix of design elements from each concept. And each concept treats the historic resources differently.
The Design Concepts Survey is another opportunity to share your input! CLICK HERE TO TAKE THE SURVEY!!
Please be sure to pass on this survey to others who you think care about the historic resources at the Courthouse Metro area.