For Sale: A Sweet Spot
Near Shirlington
For Sale: A Sweet Spot
Near Shirlington
The dictionary defines the term "sweet spot" as "an optimum point or combination of factors or qualities." If that's the case, then this renovated circa-1925 bungalow is in a sweet spot indeed.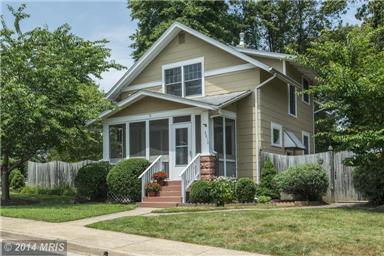 Tucked away on a quiet street between Glebe Road and the scenic Army-Navy Country Club, the house is located close to downtown Shirlington, Columbia Pike, and I-395, making it convenient to many desirable South Arlington amenities as well as downtown Washington, D.C.
This three-bedroom, two-bath house still has several original features, including its original woodwork and molding, and is situated on a large lot with a patio and covered shed.
The house has been sensitively expanded and renovated, with an updated kitchen and bathrooms and a completely finished lower level. A screened-in porch, skylights, and ceiling fans add to the charm. Located at 2813 20th Street South, the house is listed for $628,750. Click here for the listing.
On occasion, Preservation Arlington will highlight unique historic houses that are on the market in Arlington County. We hope to raise awareness of some of the true housing gems we have here. Some might be in great condition and just need to be maintained by their next owner, while others may need a steward with heart and passion to restore and stabilize the property. These are not commercial listings or endorsements by Preservation Arlington.