UPCOMINGSPRC MEETING:Walking Tour of Key Boulevard Apartments
UPCOMINGSPRC MEETING:Walking Tour of Key Boulevard Apartments
The Arlington Planning Commission's Site Plan Review Committee (SPRC) will hold its second meeting to discuss the proposal for the redevelopment of the Key Boulevard Apartments, located at 1537-1545 Key Boulevard. This particular meeting is a walking tour of the site. Participants will see the importance of these garden-style apartments and their great design and scale, among other things. More information is available on the County webpage dedicated to this project.
Based on the latest weather report, the Walking Tour scheduled to start at 7:00 pm tonight has been CANCELLED.

The meeting will start at 7:00 pm at Wilson School in the multipurpose room, 1601 Wilson Boulevard.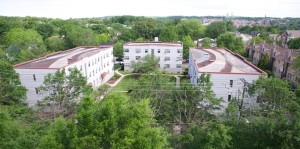 Preservation Arlington highlighted this project in a February 2014 post about existing site plan proposals that impact important historic resources. Built in 1943, Key Boulevard Apartments are a nearly perfect garden apartment complex with all the right details and scaling. The unused density for this site has already been incorporated into the Atrium Condo across the street.
The applicant is proposing a TDR (Transfer of Development Rights), moving density from a historic garden apartment complex in Ballston to facilitate the demolition of this garden apartment complex. The Key Boulevard Apartments are listed as "Important" in the County's Historic Resources Inventory, adopted just three years ago.
This is an important project and one to pay attention to in the coming weeks.
DATE: Monday, July 14, 2014
TIME: 7:00 p.m.
PLACE: Key Boulevard Apartments
1537 Boulevard
Arlington, VA 22209
7-8 PM Walking Tour of Site
8 PM Convene for discussion in Historic Wilson School.