Preserved & Developed:Two Historic Storefronts — One New Modern Building
Preserved & Developed:Two Historic Storefronts — One New Modern Building
Preserved & Developed is a series of articles by Preservation Arlington highlighting local development projects that have involved both development of a site and preservation of historic resources. The projects highlight a wide range of challenges and solutions over many years. At the time they were completed the projects represented a commitment by the developer and the community to embrace the future and preserve the past. Preservation Arlington is awarding each project a gold, silver, or bronze star based on the extent to which the project protected historic resources within its particular constraints.

Two minor and unique Clarendon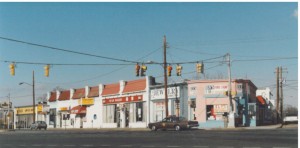 storefronts have been saved in place. While it may seem pretty straightforward, it was not easy to get this completed. The final location of these storefronts was determined as the site plan proposal went to a public hearing with the County Board.
As projects become more complicated, the competing interests become more conflicted. On this project:
• the applicant wanted to "slide" the storefronts back such that they would be flush with new modern façade;
• some citizens wanted the sidewalk in front of the new project to be the standard width for Washington Boulevard such that it could accommodate people walking aside one another;
• historic preservationists advocated for keeping the facades in place, as they would then relate more closely with the remaining buildings to the east, providing a context for all of the buildings; and
• the Clarendon Sector Plan rewrite was in mid-stream and thus there was no updated or official consensus on how this block was to be redeveloped.
Fortunately, Arlington County had plans for changes to this portion of Washington Boulevard and felt that any improvements to the sidewalk could be accommodated during future changes to Washington Boulevard. In doing that, the facades could remain at their location and the pinch-point on the sidewalk would be corrected at a later date.
Other than agreeing to preserve and restore these two facades, there were no other considerations for historic buildings or density bonuses. This project also demonstrates that not everything is being approved and built. This project was first approved in December 2005 as the economy was at a low point. So it has been nine years from approval to opening.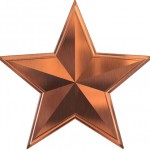 Preservation Arlington appreciates the gesture this modern building makes towards preservation of these two historic storefronts of Clarendon. The project is worthy of a bronze star.