FOR SALE: Modern Luxury
FOR SALE: Modern Luxury
An exciting modern home has been substantially remodeled and updated for its next owner. Purchased by an investor group in early 2013, the house has been completely upgraded with a nod to its dramatic modern architecture. 3435 Roberts Lane is currently offered $1,449,900 and the full listing is available online. This house has amazing curb appeal.

Bellevue Forest is better known for its traditional brick architecture and ramblers or split level homes. But tucked away in the back corner along the Potomac River and Palisades is a collection of homes covering a wide range of styles and ages, some dating back to the 1890s. While this home is one of several very modern houses in Bellevue Forest, it is also adjacent to Glenmore, which is more than 100 years old.
Glenmore, (c. 1906) was a summer and weekend retreat for the William F. Roberts family. It was designed by Washington, D.C. architect Appleton P. Clark. Stone for the structure was quarried from the Palisades. The original log construction and wood shingles have since been covered with stucco. The home's site was selected for its magnificent panoramic views of the Potomac at a time when Arlington was rural and undeveloped. Originally a 40+-acre estate, it was reached primarily by boat from Fletcher's Boat House. Glenmore is a designated Arlington County Landmark.
This is a great opportunity to live in a 1960s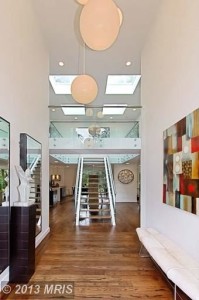 modern home that has been remodeled and updated for the 21st century and be adjacent to one of Arlington's historic gems.
On occasion, Preservation Arlington will highlight unique historic houses that are on the market in Arlington County. We hope to raise awareness of some of the true housing gems we have here. Some might be in great condition and just need to be maintained by their next owner, while others may need a steward with heart and passion to restore and stabilize the property. These are not commercial listings or endorsements by Preservation Arlington.