For Sale: Stately Brick Colonial
For Sale: Stately Brick Colonial
A stately colonial on one of Arlington's prestigious streets is on the market. Built in 1929, this home, at 1706 South Arlington Ridge Road, has seen many changes in the neighborhood yet still retains its grace and good looks. It is hidden behind a brick wall and hedge, but it is easy to see its front portico, as well as its traditional design features and characteristics.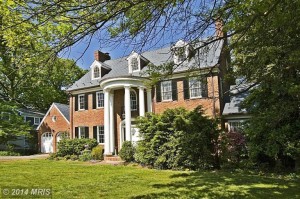 The home has a formal foyer, graceful stairs, a cherry wood library, five bedrooms, three porches, slate roof, 20,000 sf lot, and a two-car garage. This house has always looked great and has helped make Ridge Road such a sought-after address.
And, most importantly, it is almost immediately across the street from the Arlington Historical Society Museum.
This property is currently listed for $1.875 million. Click here for the listing and more pictures.
On occasion, Preservation Arlington will highlight unique historic houses that are on the market in Arlington County. We hope to raise awareness of some of the true housing gems we have here. Some might be in great condition and just need to be maintained by their next owner, while others may need a steward with heart and passion to restore and stabilize the property. These are not commercial listings or endorsements by Preservation Arlington.