Historic Districts 101
Historic Districts 101
What are Arlington's historic districts and why are they important? Preservation Arlington has been highlighting properties in our "For Sale" series that are in historic districts, showcasing properties that were saved, and trying to raise awareness about the loss of homes in our National Register Historic Districts.
The goal is to foster discussion about what these older neighborhoods mean to the fabric of our community, and how the scale, pedestrian focus, and land use are all factors in historic district designation in Arlington and part of what makes this county a great place to live.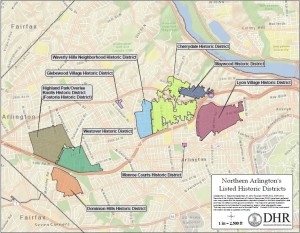 It is clear that Arlington County has a rich history – a history told by historic markers and major landmarks such as Arlington House, Arlington National Cemetery, Fort C. F. Smith and Fort Ethan Allen, the Ball-Sellers House, the Glebe House, Clarendon Post Office and more. But what isn't as obvious are the many historic districts that are designated as landmarks on both the Virginia Landmarks Register and the National Register of Historic Places.
Of the 56 Virginia Landmarks listed in Arlington County, 25 historic districts include several multiple designations and multiple buildings — such as the county's many bucolic garden apartments. This is a wonderful reflection of the communities and neighborhoods that characterized much of the county throughout its history. Some historic districts share boundaries. Rather than create one large district, in these instances, the distinctions indicate the care that was taken to identify the significance of differing architectural styles, development phases, and important developers and architects within the county.
In Arlington there are two very distinct historic districts — a Local Historic District and sites on the National Register of Historic Places.
Local Districts
Local Historic Districts are designated by Arlington County. There are 34 Local Historic Districts found throughout Arlington County. The historic character of these districts is maintained through a design review process, which requires the review of any exterior modifications, new construction, or demolition within district boundaries. The majority of these projects have to be approved by the county's Historic Affairs and Landmark Review Board and most do get approved. These districts generally include single buildings or structures of very important historic importance to Arlington. In addition, Buckingham Village, Colonial Village, and Maywood are communities of multiple buildings that are all designated and protected.
National Register Sites
There are now more than 64 Arlington County listings in the National Register of Historic Places. One nomination is pending approval from the Virginia Department of Historic Resources and the National Register. This covers many neighborhoods and communities that have conducted a verification process and identified buildings that are important and contributing to the character of the community. Unlike the Local Historic Districts, these properties are afforded no protections or regulatory review. All of these communities are eligible to become Local Districts and develop design review guidelines that would be unique and targeted to their design vocabulary.
* Please note that the Virginia Department of Historic Resources, which created the historic district maps above, used different criteria to divide North and South Arlington than the traditional Arlington division, which primarily uses Route 50 (Arlington Boulevard) as the boundary between North and South.
For more information, contact the County's Historic Preservation office.