SPOTLIGHT:
Whitlow's on Wilson
SPOTLIGHT:
Whitlow's on Wilson
At lunchtime in Clarendon, the sidewalks instantly fill with worker bees emerging from their hives, looking for a bite to eat. Many of them will descend upon Whitlow's on Wilson, the thriving eatery that has been a Clarendon mainstay since 1995.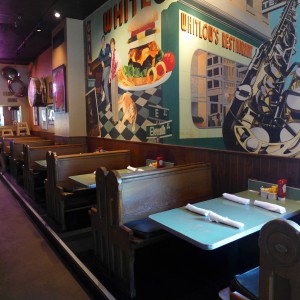 Located on the corner of N. Fillmore Street and Wilson Boulevard, Whitlow's on Wilson serves up classic American fare and is known for its live music scene. Several rooms offer places for dining, hanging at the bar, playing pool, and eating al fresco. Along with the laid-back vibe and good food, what distinguishes the restaurant from other Clarendon hotspots are the numerous salvaged signs, furniture, and other pieces that give it a special vintage flair.
On a recent morning before the lunch rush, as his staff were busy prepping the bar, stocking the kitchen, and wiping down tables, owner Greg Cahill sat down to talk with Preservation Arlington about why he has filled the restaurant with these salvaged treasures.
"I like old stuff and making a new life for it," Cahill says. "A lot of people lose track of history." Cahill was raised in Fairlington and remembers when he and his friends could run across what was then Shirley Highway (now I-395) to get to the stores in Shirlington. By the time he opened his new restaurant in his hometown, he wanted to bring a piece of the past with him.
The roots of the Arlington location can be traced back to the first Whitlow's restaurant on E Street downtown, which was a longtime Washington, D.C., landmark, purchased by Cahill in 1971, before it closed in the face of a proposed redevelopment in 1989. Knowing they would eventually open a new restaurant, Cahill grabbed anything useful "that wasn't nailed down," he says.
The barback and one 1950s-era table came from the original Whitlow's, for instance, and eventually Cahill accumulated a unique collection of signs, cabinets, and mirrors from wherever he could, often from neighboring businesses or buildings that were also being demolished. The lights came from the back of a nearby liquor store in D.C. where Cahill was storing some things temporarily, and the lattice metal doors seen around the restaurant came from Cahill's old D.C. neighbor, the M.E. Swing coffee company. The host stand once stood at the old Woodward & Lothrop department store downtown.
He didn't stop there. With permission, of course, Cahill acquired pews from St. Patrick's Cathedral, which were being put out of service for a renovation and are now the seats for the booths that line the main room. He had the bar top fashioned out of a bowling lane in Baltimore. His wife Susie even brought in stained-glass windows from her girlhood home in Illinois.
Arlington's civic past is also present in the dining room chairs — which Cahill bought at fire-sale prices from the old Arlington Courthouse before it was decommissioned. He walked out with more than 100.
By the time the conversation ended, most of those chairs were filled up with lunchtime diners, and Cahill was off and running. It's just another day at Whitlow's, a unique example of an Arlington restaurant with charm and history to spare.