For Sale: Classic 1940 Westover Hills "Skyscraper Construction"
For Sale: Classic 1940 Westover Hills "Skyscraper Construction"
Built in 1940 as part of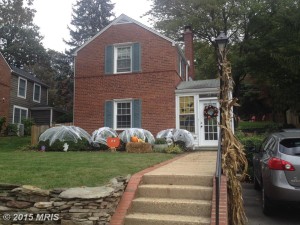 Mace Properties' Westover Hills subdivision, this solid brick-clad, 3 bedroom 2.5-bath home is located in the National Register of Historic Places-listed Westover Historic District. The neighborhood was designated historic because it is a significant example of the impact that New Deal programs had on residential construction across the country and, in particular, in Arlington County.
This updated Westover classic at 1211 Livingston Street was built in 1939 and is on the market for $754,900. Click here for the full listing.
The modest Colonial Revival-style houses found in Westover Hills were designed by architects Adolph F. Thelander and Harry E. Ormston. The neighborhood layout reflects the highly influential design standards specified by the Federal Housing Administration (FHA), which was established under the National Housing Act (NHA) of 1934. In addition, Mace Properties' initial developments, including Westover Apartments (1939) and Westover Hills (1940-1941), made use of new technologies in building construction.
The developer used Stran-Steel framing, concrete floors, and assembly-line building methods to create solid buildings at relatively low cost. Mace Properties implemented "Skyscraper Strength" into the construction of each house in Westover Hills. Advertisements emphasized the "Skyscraper Construction" and the "4,870 pounds of steel" used for the "solid, sturdy, and enduring" houses of Westover Hills. (The Washington Post, 8 September 1940.)
At the time of its development, Westover was promoted in The Washington Post: "Lifted by the modern magic of mass production, this rapidly forming abode for 500 happy families is emerging from acres of cool, green hillocks ringed by velvet woods." ("Westover Hills Bustling With Activity as New Mace Homes Undergo Construction," The Washington Post 23 June 1940.)The neighborhood's developer, Miles A.Mace, believed that since there were houses throughout the United States that were over 100 years old, houses built today could be constructed with the same permanence.
Westover was designed to be a self-sufficient neighborhood that incorporated a school (Swanson Middle School, 1939), a church (Westover Baptist Church, 1941), and the Westover Shopping Center (1941). These community amenities still serve this walking neighborhood today.