"Nod to History" County New Tax Decal
"Nod to History" County New Tax Decal
On January 27, the County Board announced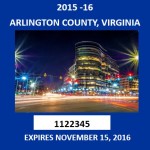 the winner of the eleventh annual Decal Design Competition — an enhanced photograph of the redeveloped Bob Peck Chevrolet site at 800 North Glebe Road.
Arlington County residents chose Tommy Casey's design, which he called "A Nod to History," over three other finalists. Casey's design will appear on the windshields of more than 160,000 vehicles in Arlington County. For more information, read the Arlington County press release on the winning design.
Preservation Arlington profiled the Bob Peck Chevrolet/800 North Glebe Road site redevelopment as a successful "Preserved & Developed" project. Re-read that article from September 2013 here.