Back to School: Great New Uses for Old Schools
Back to School: Great New Uses for Old Schools
Preservation Arlington celebrates the return to the school year with a four-day series looking at one of the most important buildings types in our community — the school house. In our first post, we highlighted some of Arlington's best-designed school buildings, spanning different decades.
Yesterday, we examined successful school expansions that respect the original building while meeting the needs of a growing school-age population.
Today, we are focusing on schools that have been given new uses and remain important civic buildings. We wrap up our series tomorrow by looking at educational buildings that are now at risk.
As the County has grown, numerous buildings that were first constructed as schools now live on in new and interesting uses. Some of these schools ceased operations because they were replaced by larger and more efficient schools, while others closed due to enrollment declines. Several of the buildings were sold while others were given to groups and have been repurposed for other community activities. All of these buildings are old, and while some have been renovated and modernized, others could use some needed attention. For good measure we threw in the story of a building that was not a school originally but has been operating as a school for several years.
The Hume School, at 1805 South Arlington Ridge Road, is an 1891 former school building designed by Washington architect B. Stanley Simmons. Frank Hume, a confederate veteran of the Civil War sold the property to the County. It operated as a public school from 1891 to 1958, when it closed. The building was deeded to our good friends at the Arlington Historical Society in 1960 and currently serves as their museum. The oldest school building in Arlington County, it was listed on the National Register of Historic Places in 1979 and is also a designated Arlington County Landmark.


Carlin Hall, at 5711 4th Street South, has served many uses as it continues to change with the community. Built in 1892 as a community building for the Carlin Springs Cooperative Association, Carlin Hall Community Center is the oldest purpose-built community building in Arlington. It has continuously served the historic neighborhood (now known as Glencarlyn) as a location for community meetings, a social center, a church, a public library, and school. It housed the neighborhood elementary school from the 1920s into the 1950s. In 1993 it was listed on the National Register of Historic Places and is also listed on the Virginia Landmarks Registry and is a protected Arlington County Local Historic District. In 2013 it underwent a major structural stabilization and will be around for many years to come.


Originally built in 1910 as the Clarendon School, 3550 Wilson Boulevard was later renamed to honor Matthew Fontaine Maury (1806-1873). Known as the "pathfinder of the seas," Maury was a native Virginian, naval officer, geographer, and oceanographer who served as Commander in the Confederate Navy. This is a classic example of school architecture by noted Virginian and school architect, Charles M. Robinson. The Maury Elementary School closed in 1975. In 1977 it became the home of the Arlington Arts Center. The Maury School is now a designated Arlington County Landmark and is listed in the National Register of Historic Places. It is also home to several of our Tiffany stained glass pieces highlighted in a Preservation Arlington post earlier this year.

Nelly Custis School, at 712 23rd Street South, was built in 1923 and continues to have a quiet but school-like presence. The building is no longer a school and was sold by Arlington County in 1979. If you ever drive down 23rd Street South this building jumps out at you and says "I am a school." Named after Eleanor Parke "Nelly" Custis, the grandchild of Martha Custis Washington, the building was constructed in 1923, with a central entry and flanking sides. It is a classical design. A 1960s addition is on the back of the building. Not much is known about the school and its years of operation, but as a civic building it now houses Linden Resources, which provides professional development and assistance for disabled persons. It also serves as a polling place.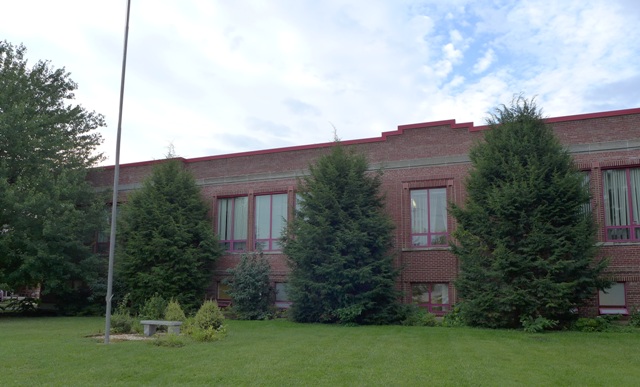 Built in 1935, the John Marshall School, at 2501 North Glebe Road, underwent several changes after it was decomissioned as a school. In 1985, a second floor was added to the building and it was converted to office condominiums, yet it still retains the appearance of a school. John Marshall was born in Fauquier County and was the fourth Chief Justice of the U.S. Supreme Court as well as a member of the Virginia House of Representatives, U.S. House of Representatives, and the Cabinet (he served as Secretary of State).


The Reed School, at 1644 McKinley Road, opened in 1938 to serve the burgeoning Westover Community. The school was expanded and changed several times. It operated as an elementary school until 1984 when it was closed. It was gutted in 2008 as part of a major redevelopment of the site. It reopened in October 2009 and houses special programs for Arlington Public Schools but no longer operates as an elementary school. The school is named after Major Walter Reed, M.D. A native son of Gloucester, Virginia, Reed was a U.S. Army physician who in 1901 served on a team that confirmed the theory that yellow fever is transmitted by a particular mosquito species, news that gave impetus to the new fields of epidemiology and biomedicine. Reed was, and still is, the youngest person to graduate from University of Virginia with a medical degree.

Madison School, at 3829 North Stafford Street, was built in 1939. It is a former school now serving as a community center providing programs for older citizens as well as day care for younger residents. In operation until the mid 1970s, the building has a very classic design. The school was named after Virginia's James Madison who also served as fourth president of the United States. The Madison School sits on the site of the Saegmuller School, funded and named for Arlington resident and former County Board Member George Saegmuller. The Saegmuller school was acquired by the County in 1937 to expand its capacity with construction of the new building.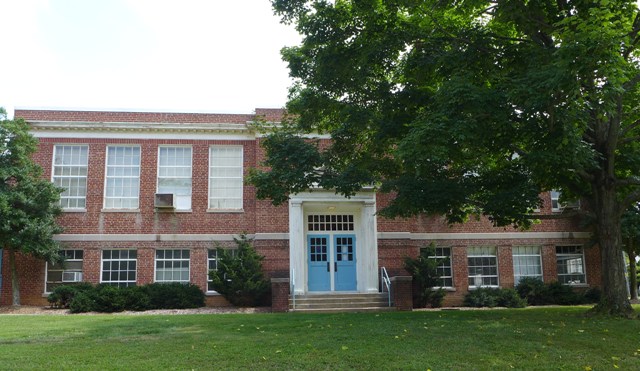 Robert E. Lee School, 5722 Lee Highway, was built in 1940 (*edited 9/8/2014: County tax records show the building was built in 1940. A 1934 aerial of the County shows the building in place.) and operated as an elementary school until June 1971. In the mid 1970's the building served as a daycare center. The Lee Arts Center has been operating out of the facility for several years. It offers open studios, workshops, artist in residence and exhibitions for local artists. Named after Robert E. Lee, who is best known for commanding the Confederate Army of Northern Virginia during the Civil War. Lee was born at Stratford Hall and owned Arlington House/Custis-Lee Mansion.


Built in 1941, the Fairlington School is an integral part of the Fairlington Community, listed on the National Register of Historic Places. The Fairlington community, at the time it was built, was the largest housing project financed by the Defense Homes Corporation. The school building operated as an elementary school from 1944 to 1979. At that time it was converted into a community center. Fairlington was originally called "Seminary Heights" but was renamed to reflect the two counties in which it was located — Fairfax and Arlington (prior to this area being annexed to the City of Alexandria in the 1950s).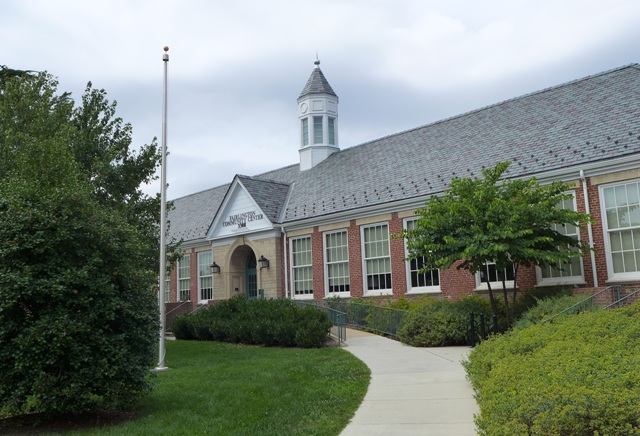 Woodlawn Elementary School, at 4720 16th Street North, opened as an elementary school in 1950 and was declared surplus and closed in 1971. That year, it became home for the high school-oriented "Woodlawn Project," which later evolved into Arlington's celebrated HB-Woodlawn School. It is a small-scale building offering colonial revival features. Additions were built in 1948 and 1962. In 1978 the building was transferred to Arlington County and then gifted in 1983 to the Hospice of Northern Virginia. This innovative re-use of the building has become an important part of the community.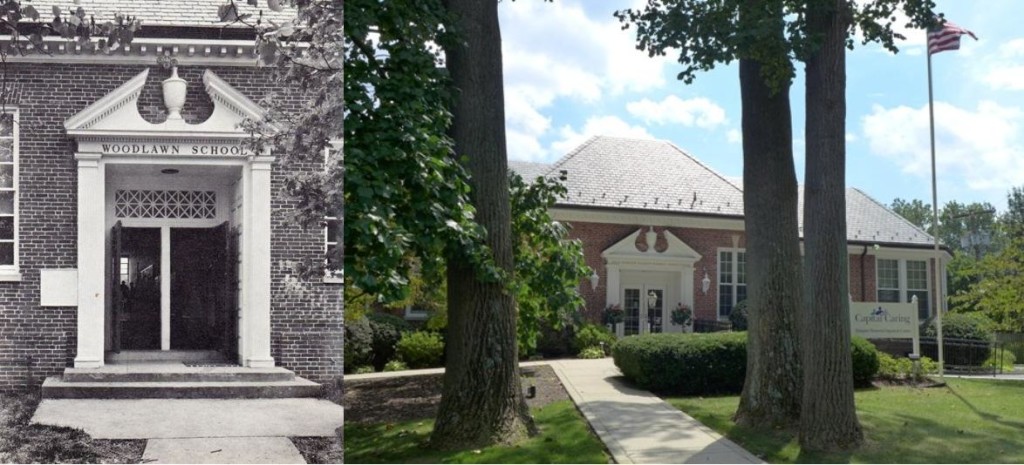 Woodmont School, at 2422 North Fillmore Street, opened in the early 1970s, when it too closed due to declining enrollment. It is now used as a camp for the YMCA and storage for County documents and archives. The modern style school is nestled in the woods overlooking Windy Run.

The Virginia Square Shopping Center, bounded by Nelson Street, Washington Boulevard, Fairfax Drive and Kirkwood Road, opened in 1952 and included many great stores including Giant Food, Woolworth's, People's Drug and the Kann's Department Store. The Kann's Department store closed in 1975 and the center was demolished in 1988 to make way for the new FDIC Headquarters. By 1979, the Kann's store became home to the newly founded George Mason University School of Law and later the School of Public Policy. Built in 1951 the Kann's Department Store was a modern department store on the edge of the Clarendon Business District. It was the second department store in the suburbs, opening only two weeks after Hecht's opened in Parkington (now Ballston Commons Mall). Ever since GMU took over in 1979 this building has been on the chopping block for redevelopment, and as GMU has completed phase I and II of this project, the threats may be more imminent.

Do you frequent any of these buildings? Did you know they used to be schools?