Treasures of the Past: The Clay Elementary School Twitter
Treasures of the Past: The Clay Elementary School Twitter
A Twitter from 1954? Another one from 1962? In all, 14 Twitters have recently been sent to the Center for Local History at Arlington's Central Library. The Twitter was the name of the school newspaper of the former Henry Clay Elementary School in Clarendon. Recently uncovered at an estate sale at the home of a former Clay schoolteacher, this treasure trove includes school newspapers spanning nearly a decade between 1954 and 1962, as well as a half dozen class photographs from the school.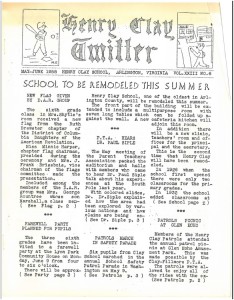 Henry Clay Elementary School was located at 3011 7th Street North in the Lyon Park area of Clarendon. It was built in 1926 and originally had only two rooms. In 1932 more rooms were added, and the library was remodeled in the 1950s. In the late 1970s, it closed as a regular elementary school and was demolished in 1983. It is currently a public park.
With the discovery of the Twitters, a fascinating slice of Arlington history has been recovered and preserved. Each Twitter has a front-page story with a banner headline, followed by Other News, Ways of Learning, Science, Safety, Sports, Literary, Book Reports and the Fun section.
While some of the articles are clearly written and edited by adults, there are quite a number with unbridled elementary school enthusiasm. Stories included a field trip to the Museum of Natural History, an exchange student visiting from El Salvador, preparing for Fire Prevention Week, an update on the Henry Clay bowling team that competed at the Clarendon Bowling Center, a visit from a representative of American Legion Post 109 to discuss George Washington and show a film about the U.S. flag, and preparing for the 1962 Olympics where the classes would have "races, broad jump and many other activities to find out which pupils are the most athletic."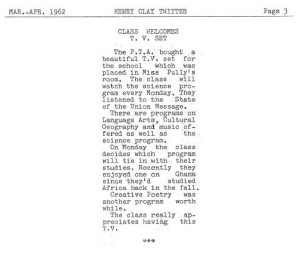 Click here to see the Clay ES Twitter 1954 May-June (1954) and Clay ES Twitter 1962 Mar-April (1962) issues that were recently discovered. Check out the gem on page 4 of the 1962 issue where kids are encouraged to participate in President Kennedy's physical fitness program, as the "…Swedish, Swiss, Germans and even the Russians are ahead of us." To see the rest, you will need to the visit the Center for Local History.
What information do you have that tells a story about life in Arlington?